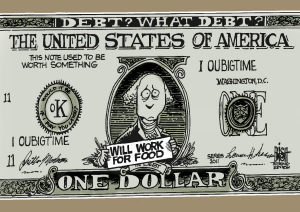 By Greg Hunter's USAWatchdog.com
I have been saying repeatedly that the one thing you can count on is inflation.  If you take housing out of the picture, that is exactly what we have been getting.  The Fed wants inflation and loathes deflation.  Ben Bernanke and other Fed officials have consistently said they want to support "asset prices." In an October statement from the Federal Reserve Bank of New York, it attempted to explain its bloated balance sheet and explain why it was buying government bonds and mortgage-backed securities.  The Fed said in part, "Nevertheless, balance sheet policy can still lower longer-term borrowing costs for many households and businesses, and it adds to household wealth by keeping asset prices higher than they otherwise would be." (Click here to read the entire Fed statement from October 2010.)
According to financial expert James Rickards, the Federal Reserve is playing an inflation game called "financial repression."  The goal is to get the U.S. out from under at least $77 trillion in debt and future liabilities.  The Fed would like to cut the deficit in half in 10 years.  How do you do that without actually cutting anything?  Rickards said in a recent interview on King World News, "The answer is 4% inflation.  It doesn't have to be that high, it just has to be persistent.  It's like holding an ice cube in your hand.  It just melts away.  Well that's what the Fed is doing, and that's what financial repression is all about." (Click here for the complete King World News interview with Mr. Rickards.) (Click here for James Rickards' bio.)
In simple terms, in order for this to work, the Fed needs both inflation and growth.  This has been implemented in the past, and a great example is the post WWII economy.  There was growth because the U.S. was helping to rebuild the world after the carnage in Europe and the South Pacific. There was also some inflation, but not so much that would alarm the public because back then, everyone had a job and wages rose.  By the 60's, the debt overhang from the war was largely in check.
Rickards says the big problem now is we are not getting the growth or the inflation that is necessary to make the Feds financial repression scheme work.  I know what some of you are saying right now, "What do you mean there is no inflation?  What about food and energy?"  I thought the same thing, and I emailed Mr. Rickards to explain what he meant.  Here's Mr. Rickards' reply: "I understand the price increases in food and energy, however, I used the Fed's preferred definitions of inflation (core CPI, CPI and the PCE price deflators) all of which are tame. I did this because financial repression is a Fed policy so if you want to understand it through their eyes, you need to use their definitions for analytic purposes. The fact is TIPS spreads to nominal yields are collapsing and inflationary expectations are coming down.  So, regardless of what you and I think of QE, the Fed is not seeing anything that would cause it to back off." In the Fed's eye, we are not really getting inflation.  So, as Rickards says, the Fed is not going to "back off."
Remember, housing prices are off 4% in the first quarter alone, but that is not the figure used in the consumer price index (CPI).  It uses rental equivalents, not actual home prices.  Rickards told me if home prices were used instead of rents, the CPI would probably show "deflation." The Fed is terrified of that and wants home prices to go up, not down.  This will keep the trillions of dollars of mortgage-backed securities from becoming worth less than they already are.  So, it looks like the Fed will continue suppressing mortgage interest rates and keep holding them artificially down to around 5%.  The Fed wants higher housing prices, but what it is getting are higher food and energy prices.  This is a huge problem for the Fed's financial repression plan because the public cannot become alarmed and outraged over inflation.
Rickards gave five reasons why, this time around, financial repression will not work in the long term:  1) There is no growth.  2) There is not enough inflation (according to the Fed.)  3) The debt, this time, is "huge." After WWII, there was 100% debt to GDP ratio.  Rickards says, "Today the Debt to GDP is six to seven hundred percent." According to a recent Chicago Sun-Times article, the official national debt and liabilities such as Medicare and Medicaid,". . . now stands at over $77 trillion — and counting!"  (Click here to read the complete Sun-Times post.) This figure does not include other government liabilities such as Fannie, Freddie, FHA and FDIC.  By the way, last weekend, the FDIC closed the 45th bank of the year.  I see no end in sight.  4) Hostile creditors, such as China, are no longer keen on buying U.S. debt.  CNSNews.com reported last week, "China has dropped 97 percent of its holdings in U.S. Treasury bills, decreasing its ownership of the short-term U.S. government securities from a peak of $210.4 billion in May 2009 to $5.69 billion in March 2011, the most recent month reported by the U.S. Treasury." (Click here for the complete CNSNews.com story.) 5) Rickards says, "Financial repression only works if people cannot own gold." Today, people can and are buying the yellow metal.  Rickards sees gold, silver and other tangible assets as a way to preserve wealth as opposed to more traditional assets such as cash and Treasury bonds. Rickards sees a pattern of "higher highs and higher lows" in the gold market for some time to come.  He thinks financial repression will work in the short term, but in the longer term, it will fail.  He says the Fed can "keep a lid on it" until 2013.  After that, he says, "there could be some kind of crack-up" in the economy.