The One Surefire Economic Prediction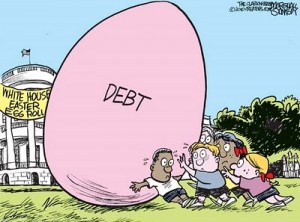 By Greg Hunter's USAWatchdog.com   
The one surefire economic prediction I can make is we are going to have big inflation.  Already, (real) inflation is running at 9.4% according to shadowstats.com (calculated the way Bureau of Labor Statistics did it in 1980).   The mainstream media seems to be finally catching on to this theme.  In the last week or so, Forbes ran a story called "Prepare for inflation." (Click here for the Forbes article.)  Just last week, CNN penned an article called "The coming inflation wave."  (Click here for the CNN story.)  Whether it is the exploding federal deficit or famed investor George Soros doubling his gold holdings, it seems all the signs are flashing more inflation is baked into the economic cake. 
Economist John Williams thinks the new health care legislation will generate new taxes and spending that will speed the inflationary process already underway.  He thinks there will be significant double-digit price increases by the end of the year.  After that, Williams predicts, "A Great Collapse . . .  and a hyperinflationary great depression. Such will reflect a complete collapse in the purchasing power of the U.S. dollar, a collapse in the normal stream of U.S. commercial and economic activity, a collapse in the U.S. financial system as we know it. . ."
I also feel that, in the end, we will have a currency crisis where the dollar will be shunned to the point it will have to be replaced.  The reason is very simple– the debt and commitments of America are just too large to ever payoff without printing vast sums of money.  The federal debt and obligations stand at $71 trillion.  And, as if that is not bad enough, that number is bound to increase dramatically in the next few years.  Trillions of dollars will be spent on Fannie and Freddie, unfunded wars, bailouts of most of the states in the union, thousands of bank failures and ballooning government deficits–and these are just the highlights.
Some say we will experience hyper-inflation; others say the world will look something like a Mad Max movie in the not too distant future.  Who knows, but inflation is here and it will accelerate significantly.  That is what you should prepare for.  So, today I leave you with a 2 part video.  It hasn't had many views, but it is worth the time to watch.  It is called "Time to Wake Up: Economic Armageddon."  Enjoy the show:
Part #2 below: