The Only Thing You Can Count On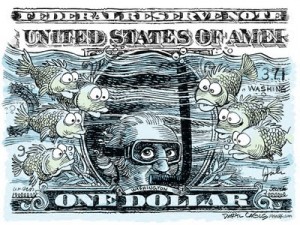 Greg Hunter's USAWatchdog.com 
Last week, in testimony on Capitol Hill, Fed Chief Ben Bernanke said, "The pace of the economic recovery will pick up."  As far as the weak economy is concerned, Mr. Bernanke also said there would be, "a notably better performance than we have seen so far this year."  I could not believe what I was hearing.  It was totally opposite to other economic news that came out in the very same week.  For example, unemployment claims stayed above 400,000 for the 14th straight week!   I do not see how that trend is going to reverse itself anytime soon with the anemic job growth in the economy.
Another big economic downer came from RealtyTrac.  Even though the happy headline splattered all over the mainstream media was similar to what CNN posted, "Foreclosures plunge in first half of 2011," the real story was buried.  CNN went on to say, "RealtyTrac's CEO, James Saccacio, sounded a sour note, however, contending that the drop-off in filings can be traced not to economic improvement or a pick-up in the housing market, but to processing delays . . . '[That's what is] pushing foreclosures further and further out — we estimate that as many as 1 million foreclosure actions that should have taken place in 2011 will now happen in 2012, or perhaps even later,' Saccacio said." (Click here for the complete CNN story.)  How do you put out a headline that misses the point of your own story by that much?  I guess CNN has the same problem Mr. Bernanke has–grasping reality.  The expert quoted in the CNN story said the housing market may not recover until "2016"!  (And you thought I was bearish.)   
Can we count on Mr. Bernanke when he says the "recovery will pick up"?   Treasury Secretary Tim Geithner recently stated just the opposite.  He said, "I think for a lot of people it's going to be – it's going to feel very hard, harder than anything they've experienced in their lifetime now, for some time to come."  Based on many wrong market calls and current economic facts, I say we cannot count on a recovery for most Americans, at least not anytime soon.
Can we count on Mr. Bernanke being correct when he says gold is not money?  Not according to Peter Schiff, CEO of Euro Pacific Capital.  In a recent article, Schiff said, "By claiming that gold is not money, the Chairman demonstrates his ignorance of much of monetary history. . . . And gold is money because central bankers like Mr. Bernanke cannot be trusted with a paper substitute.   Bernanke further disputes the facts by claiming that the only reason people are buying gold is to hedge against uncertainty, or "tail risks" as he calls them. . . . I can assure him that my gold buying has nothing to do with "uncertainty." In fact, it's just the opposite. I am buying gold because of what is certain, not what is uncertain. I am certain that Mr. Bernanke's incompetence will destroy the value of the dollar and unleash runaway inflation."  (Click here to get the complete and most excellent post from Mr. Schiff.)
So, what can you count on?  Look at the chart on "core" inflation from economist John Williams of Shadowstats.com put out last Friday.  Forget about the ridiculous idea from the government of tracking inflation by excluding food and energy, and just look at the direction.  The flight path is up since QE2 was started by the Fed in November 2010.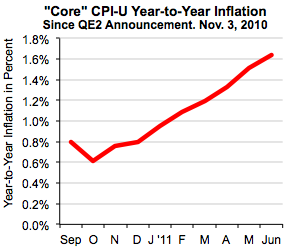 Williams explains the chart by saying, ". . . The broad economy is experiencing pass-through upside inflationary pressures from higher oil costs.  Significant here is that higher inflation does not reflect a strengthening economy, but rather it is tied to the dollar-debasement efforts of the Fed, the resulting weakness in the U.S. dollar and the related strength in oil prices."   
Even though inflation is heating up, business activity is cooling off—in a hurry.  According to Williams, the economy has "slowed sharply," and the U.S. is already in an "inflationary double-dip recession."  Williams goes on to say, "The implications are horrendous in terms of the federal budget deficit, Treasury funding needs and banking-system solvency . . . This circumstance also likely is why Fed Chairman Bernanke suddenly started hemming and hawing about having another round of "stimulus," some form of a QE3.  Yes, the economy is that weak."  
Consider this is going on against a backdrop of historic budget problems on both sides of the Atlantic.  In Europe, the sovereign debt crisis looms.  Any one of several countries can cause a daisy chain of debt default.  In the U.S., the debt ceiling impasse, where America could default on its obligations globally.  I am getting an increasing dark feeling about both of these problems getting resolved before one or both of them blows up.  Even if both problems are brought under control, gobs of money will surely be printed to avert the crisis.  This brings me to the only thing you can count on–inflation and lots of it.  According to Shadowstats.com, the true inflation rate of 2011 (if computed the BLS did it before 1994) is now 11.1%.