Trump Deals with China, Senate Tax Cuts-NOT, Financial Market Warning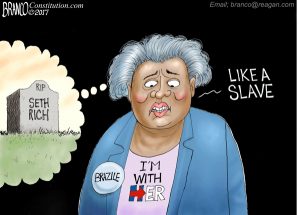 By Greg Hunter's USAWatchdog.com (WNW 309 11.10.17) 
The most important stop on President Trump's Asia visit is undoubtedly China. Trump slammed the massive trade deficit, but did not blame China for cutting a deal that was to their advantage.  Trump blames the lopsided trade deficit on past administrations and Congress.  Trump is trying to balance the scale between the U.S. and China by pushing $250 billion in deals.
The Senate version of a tax cut is out, and it's basically a complicated scam that won't cut taxes at all for many, especially in the top brackets. Trump pushed for simplicity, and the new Senate tax bill is 450 pages long.  I wonder if Senate Majority Leader Mitch McConnell is really just covertly trying to make things so complicated and onerous to sabotage Donald Trump's mandate given to him in the 2016 election.
Gregory Mannarino of TradersChoice.net is worried about the financial markets. Mannarino noted in a rare occurrence that both the bond markets and the stock markets sold off at the open Thursday morning.  Mannarino said if the markets were "real," this would be an ominous sign that the financial markets were headed for big trouble.
These stories and more are analyzed by Greg Hunter of USAWatchdog.com in the Weekly News Wrap-Up.
(To Donate to USAWatchdog.com Click Here)
After the Wrap-Up:
Gregory Mannarino of TradersChoice.net is the guest for the "Early Sunday Release." Mannarino is seeing some problems coming for both the stock market and the bond market.  Mannarino will go into detail about what he is seeing and what it means to you.