Trump Destroys Climate Accord, Economic Update, Hillary in Denial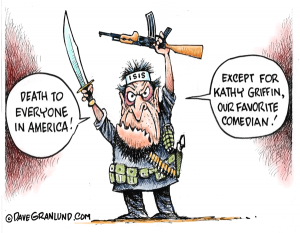 By Greg Hunter's USAWatchdog.com (WNW 286 6.2.17)
President Trump not only backed out of the so-called Paris Climate Accord, but he destroyed it. The climate accord is bad for America and the working class the Democrats now shun. Trump says it will cost millions of U.S. jobs and does not clean up the climate. China, one of the biggest polluters on the planet, gets to not only keep on polluting, but increase it along with India until the year 2030. Maybe this is why Trump says, "This Agreement is less about climate and more about other countries gaining a financial advantage over the United States." The Left and propaganda MSM media have gone berserk, but still do not attack Trump on his facts, and that says it all. The Climate Accord, brokered by Obama, is a very bad deal for America.  (For full Trump climate text, click here.)  For Trump speech video, click here.)
The Economy has some bright spots under President Trump, but there is unpayable debt everywhere. This week, Moody's and S&P downgraded the debt of Illinois to the lowest level ever for a U.S. state. Illinois debt is rated near "junk." There is no wonder as the state now has a whopping $14.5 billion in unpaid bills. Other states, like California, are also in deep financial trouble. This is just a small part of the debt picture in America. Everywhere you look, from the Federal government to individual debt, is out of control.
Hillary Clinton went off on the DNC data operation. That's rich from a person who used unprotected private servers and destroyed more than 30,000 emails after getting a subpoena to produce them to Congress. Hillary Clinton was speaking at the "Code Conference" this week and blamed the poor DNC data operation on her 2016 Presidential loss. Clinton also said the "DNC was Bankrupt," and "On the edge of insolvency." Clinton also claimed, "I had to inject money into it, the DNC, to keep it running." Is Hillary Clinton in denial about her short comings or is she afraid of being shunned by the DNC after her second failed presidential bid?
Join Greg Hunter as he talks about these stories and more in the Weekly News Wrap-Up.
After the Wrap-Up:
The "Early Sunday Release" will feature