North Korea Threat Turns Hot, FBI & CIA Look for Traitor, Economic Update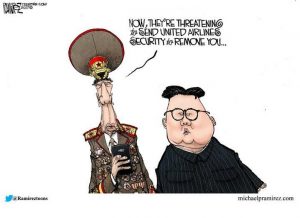 By Greg Hunter's USAWatchdog.com (WNW 280 4.21.17)
North Korea made the most provocative and dangerous threat yet through the state media when it said Kim Jong-Un may order a "super-mighty preemptive strike" against South Korea and the U.S. The U.S. says it is sending an armada to deal with the provocation. China and Russia, which both border North Korea, reportedly have deployed troops there. The threat is the worst ever for the Korean Peninsula as the North now has nuclear weapons that it did not have in the Korean War in the early 1950's.
The CIA and the FBI are now looking for a "traitor" that worked on the inside that leaked intelligence to WikiLeaks. They say it is "one of the worst breaches in CIA history which exposed thousands of top-secret documents." Meanwhile, it's reported that the U.S. is preparing charges to seek the arrest of WikiLeaks founder Julian Assange. The U.S. authorities are no longer calling WikiLeaks a news organization but a "non-state intelligence service." Assange maintains he has 1st Amendment rights and is a journalist.
The economy continues to signal the continuation of a vicious downturn. The Atlanta Fed recently revised the GDP down to just .5%. Another sign the economy is losing steam is this week's announcement that Subway is closing down nearly 360 stores nationwide. It is the first time in the company's history that it is closing stores and shrinking its business.
Join Greg Hunter as he looks at these stories and more in the Weekly News Wrap-Up.
(There is much more in the video newscast.)
After the Wrap-Up:
Bill Holter of JSMineset.com will be the guest on the "Early Sunday Release."
(To Donate to USAWatchdog.com Click Here)