Economy Rotten-Like Apple Sales, Russia US Moving Towards Conflict, MSM Unfair to Trump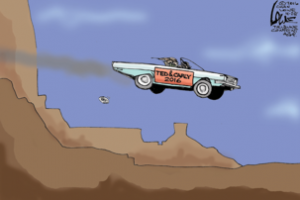 By Greg Hunter's USAWatchdog.com (WNW 236 4.29.16)
The economy is rotten just like Apple iPhone sales numbers. For the first time in 10 years, Apple reported its first quarterly sales drop for their popular iPhone. No, it's not the end of the world, but it's a sign there is trouble in the economy.  Sure, Facebook beat its earnings projections, but they don't make anything.  Other bad news includes new home sales are down.  Manufacturing numbers from the Dallas Fed are down.  Consumer sentiment numbers from the University of Michigan are down.  Spending is down.  Retail sales are down.  GDP in the first quarter came in at a paltry .5%.  Economist John Williams says that number will be revised down and will probably turn negative.  Williams says we are already in a recession or soon will be.  Both Bo Polny and Greg Mannarino say the same thing: we are getting to a point where they can no longer hide the bad economy, and there really is no recovery after all.
What does this mean for the run up in the stock market we have seen in the last few months? Mannarino and Polny also come to the same conclusion, and that is the markets are rolling over and we are headed down.  Maybe that's why insiders have sold stocks for the last 13 weeks in a row—a record.  Add this to the news of Saudi Arabia cutting oil deals with China, and Russia, as of this week, is no longer pricing its oil in dollars.  Looks like we have a perfect storm of deep trouble for the U.S. and the world for that matter.
President Obama asked Europe for support for a possible war with Russia. While the President was in Germany recently, he asked that all members of NATO back the U.S. in Eastern Europe if war breaks out.  There are all sorts of signs that things between the U.S. and Russia are not good.  Russian fighters have recently buzzed U.S. Navy ships and surveillance aircraft.  The U.S. has sent two F-22 Raptors to Romania to deter what the U.S. says is "Russian aggression."  Threats continue to be made on both sides.  Meanwhile, in the Middle East, the U.S. sent another 250 troops to fight against ISIS while Iran's Supreme Leader is complaining about how the U.S. is slow to remove sanctions and has done so only "on paper."  I say, that's the deal you get when nobody signs a deal.   The Iran/U.S. deal to curtail its nuclear program is a no deal-deal because you don't have a deal if nobody signs it.
The mainstream media (MSM) continues to trash Trump. To me, it is painfully obvious that the MSM are afraid of a Trump presidency and, deep down, know Democrats are going to vote for Trump.   According to a legit poll out at the first of the year, 20% of Democrats say they will vote for Trump.
Join Greg Hunter as he talks about these stories and more in the Weekly News Wrap-Up.