When Is One Vote More Than Just One Vote?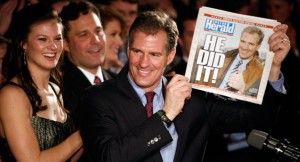 By Greg Hunter's USAWatchdog.com   
Scott Brown is the new Senator from Massachusetts.  When a virtually unknown Republican can take a seat formerly held by Ted Kennedy in the bluest of blue states, the word "upset" doesn't come close to what happened last night. This is nothing short of a sea change, and any Democrat up for re-election should be scared of losing his job this fall.  The Brown win was not really a "yes" vote for Republicans but a great big "No" vote on health care.   
The Republicans now have 41 votes to the Democrats 59 in the Senate.  Democrats still have a solid majority, but they are no longer filibuster proof when it comes to health care or any other bill pushed through Congress.  In order for health care legislation to pass now, the House of Representatives pretty much has to vote "yes" on the Senate version of the bill.  There are big differences in the House and Senate versions of the bill, and the House only passed its version of health care by a 3 vote margin.  What do you bet that some moderate Democrats will want to vote "no" on the Senate version and kill the bill after what happened in the Bay State?
Speaker of the House Nancy Pelosi will not go down without a fight.  She said, "Whatever happens in Massachusetts, we will have quality, affordable health care for all Americans, and we will have it soon."   I hope she is wrong because killing the health care bill could be the best financial news America could get right now.  For one thing, uncertainty over a new health care tax would be lifted and maybe some employers will hire some new workers.  Also, if health care does go down, then all of the billions of dollars in giveaways to entice Democratic Senators to vote for the bill can be taken back.    Louisiana, Nebraska, Florida, Iowa, Vermont, Massachusetts, Montana, South Dakota, North Dakota and Utah are just a few of the states that cut deals for their vote.  If the health care bill was so good for America, you shouldn't have to bribe someone to vote for it!
Can you imagine not spending money on a terribly expensive boondoggle we cannot afford?  Wow!  What a concept!  How refreshing.   We can simply stop digging a deeper financial hole than we are already in right now.  According to the latest Rasmussen poll, 56% of voters oppose the health care plan. Brown's win is more than adding just one more Republican vote to the Senate.  It is signaling a red light on health care and maybe a change of direction in American politics.