2020 Predictions on Trump, Economy, War and Unrest – Gerald Celente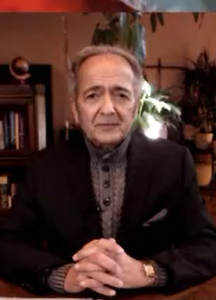 By Greg Hunter's USAWatchdog.com (Early Sunday Release)
Gerald Celente, a top trends researcher and Publisher of The Trends Journal, says his magazine motto is "Tomorrow's news today." Celente says, "We are the only magazine in the world that tells you history before it happens."
Let's start with what just happened to President Trump with the House of Representatives voting to impeach. Is this going to hurt or help President Trump? Celente says, "It's going to help Trump. Obviously, the Senate is not going to convict him, and this is just a total waste of time. . . . It was not bi-partisan, and it was totally illegitimate. When it all began, we told our Trends Journal subscribers don't pay any attention to this because it's a waste of time and energy. There's a whole world going on out there, and all you are going to get from the dumb U.S. media is impeachment this and impeachment that. It adds up to zero, and it's going to help Trump."
There are many other questions for trends researcher Celente such as will the economy hold up until the November 2020 election? Where are interest rates going, up or down? How long can the economy be propped up my massive global money printing such as what has been going on recently in the repo market? If it breaks down, when will that happen? Civil unrest is going on around the world. Will civil unrest come here to the USA? What about the Middle East? Is there going to be war or peace? A hint from the interview, Celente says, "The world is on fire, and it is heating up."
Celente is not talking about global warming either, and most predictions deal with coming problems for America and the world.
Join Greg Hunter of USAWatchdog.com as he goes One-on-One with Gerald Celente, the Publisher of The Trends Journal as he gives his top trends and predictions for the year 2020 and beyond.
(To Donate to USAWatchdog.com Click Here)
After the Interview:
There is free information on TrendsResearch.com. If you want to become a subscriber of The Trends Journal" (which is now weekly) click here.