Weekly News Wrap-Up 2.3.12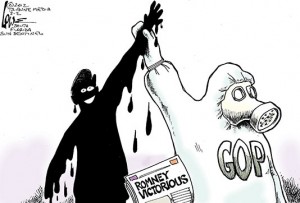 By Greg Hunter's USAWatchdog.com 
Defense Secretary Leon Panetta said that Israel might attack Iran by spring!  Why he felt he had to put that out there, I'll never know.  Why the Mainstream Media (MSM) buried this story is another question altogether.  This is huge and has some frightening implications.  What if the Iranians feel they want to beat Israel to the punch and attack first?  What if the Israelis have no intention of attacking Iran?  What if Israel now feels the element of surprise is gone after spring and it moves up their time table?  I do not see how this announcement helps calm down the situation in the Persian Gulf.  Not that an attack by Israel is out of the question.
Ehud Barak, the Israeli Defense Minister, was in Davos this past week gaging support for a strike on Iran's nuclear facilities and says the West is basically running out of time.  In other news, the MSM made a big deal out of Donald Trump endorsing Mitt Romney.  Who cares?  The MSM ignored the new Gallup poll that says Congressman Paul has about the same chance to beat Obama in the fall as Romney!  There was not a peep about that from the corporate controlled media.
Attorney General Eric Holder is in the hot seat, once again, in Congress over the "Fast and Furious" gun deal where our own border agents were shot at and killed with guns the Federal government supplied to Mexican drug cartels.  Fair enough.  What about asking Mr. Holder why his Justice Department hasn't investigated massive fraud in the housing industry that caused the financial meltdown in 2008.  We are talking trillions of dollars in fraud that is alleged in numerous court cases across the country.  We had fraudulent liar loans.  Wall Street packaged the liar loans into mortgage securities that turned "toxic."  And we, also, had massive foreclosure fraud the MSM called "Robo-Signing" when it should have been called forgery!!  Why no questions from either party about that???
Finally, a top gold expert now says silver is heading up in the next couple of years right along with gold.   Alf Fields is predicting gold at $4,500 and silver north of $150.    All these stories and a lot more from Greg Hunter of USAWatchdog.com in the Weekly News Wrap-Up.