All Roads Lead to Gold in a Credit Implosion – Bill Holter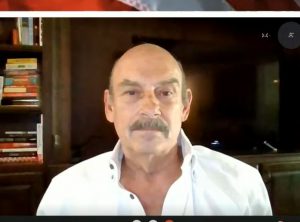 By Greg Hunter's USAWatchdog.com (Early Sunday Release)
Financial writer and precious metals expert Bill Holter says, "Gold is like a tractor in first gear pulling up a hill," as it touches all-time highs once again.  Holter thinks the "gold tractor" is going to be shifting up a few gears in the not-so-distant future.  Holter, who has been dubbed the new "Mr. Gold" by the reigning "Mr. Gold," Jim Sinclair, explains, "There is no rush like a gold rush.  The reason being is you get momentum followers.  You get people who are greedy who want to make money.  Then you have the fear trade, and the fear trade is probably the most powerful emotion.  What you are seeing around the world is big money understands we have a credit implosion coming, which is going to take the currencies with it.  Where do you hide?  The place to hide is in gold and silver."
As much as Holter likes gold, he says silver is way undervalued compared to gold.  Holter has long said when silver prices takes off, "it will be like gold on steroids."  Holter says, "The reason silver is undervalued is it comes out of the earth at 10 (ounces of silver) to 1(ounce of gold).  That's God's ratio.  Man's ratio had gotten to 120 to 1.  I can tell you which ratio is right and which ratio is wrong."  Holter thinks God's ratio is the correct one.
Holter says, "All roads lead to gold" especially in today's economic environment.  Holter explains, "Gold is the arch enemy of fiat currencies. . . . You can just use your common sense and see we have a big, big problem out there, and capital is going to need a place to hide.  Gold and silver are the only money that do not have any liability.  Gold and silver are proof that labor, capital and equipment were used to create that.  It already has been done, whereas everything else is a future promise, and promises are made to be broken . . . . . The central banks must either inflate or die. . . . The central banks have to reflate or inflate, whatever you want to call it; otherwise, the entire credit system comes down.  If they don't inflate and they let the credit system come down, then you have a massive deflationary event where credit implodes.  All the currencies themselves are credit.  So, if the credit system comes down, it also takes the currencies with it. . . . With all the debt out there, the central banks must hyper-inflate.  Where's the best place to be in a hyperinflation?  Gold and silver.  If they don't hyper-inflate, and they let the credit markets completely collapse and everything defaults, what's the best place to hide?  Gold and silver because they have no liability.  They are pure money.  That's why all roads lead to gold."
Holter goes on to say, "You could have both.  We could have a credit implosion, and the Fed creates $100 trillion and puts it into the system.  That's the only response they have if things get out of hand. . . .  It's inflate or die."
In closing, Holter warns people to get ready and buy physical assets.  This include food and water and anything else you might need.  Holter predicts, "You are going to lose purchasing power.  Just look at history.  Every time a currency has failed, the population loses its purchasing power.  Just because this is the United States, it doesn't mean we can break the laws of Mother Nature.  We are going to face a huge drop in purchasing power and a huge drop in our standard of living.  We have said this for years and have been trolled for years, and now here we are."
Holter also points out the legendary gold investor Jim Sinclair is the original Mr. Gold, and Holter says, "Jim is Mr. Gold emeritus."
Join Greg Hunter of USAWatchdog.com as he goes One-on-One with the new "Mr. Gold" Bill Holter of JSMineset.com.
(To Donate to USAWatchdog.com Click Here)
After the Interview: 
There is much free information and analysis on JSMineset.com.  If you want to become a subscriber to cutting edge original analysis and articles, click here.
This segment is sponsored by Discount Gold and Silver Trading. Ask for Melody Cedarstrom, the owner, at 1-800-375-4188.