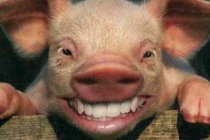 By Greg Hunter's USAWatchdog.com 
The Markets breathed a sigh of relief yesterday after word of an European Union bailout of Greece.  The Dow was up 150 points.  Greece is one of, what is called, the "PIGS," which is an acronym for Portugal, Italy, Greece and Spain.  All of these Southern European countries are facing severe debt problems.   The most immediate problem is Greece, and it looks like a "Big Fat Greek Bailout" will postpone a debt crisis for now. 
Meanwhile, Money Week has its eye on a future and much bigger debt crisis on the way.   Its headline earlier this week says, "Forget Greece – the real debt crisis is still to come."  The story says, in part, "Sure, financial markets are fretting that within two years, Greecewill have racked up public borrowings equal to more than 120% of GDP.  But that's nothing compared to the global picture.  Dylan Grice, at Société Générale, has crunched the numbers for the whole of the EU, the UK and the US. He's found that the average total net liabilities – including unfunded pensions, social security and healthcare – of these countries' governments emerged at a terrifying 400% of GDP."  (Click here for the full story)   
Meanwhile, here in America, we have our own "PIGS"; only the U.S. has many more, and they are much fatter with debt.  According to the Center on Budget and Policy Priorities, a group that looks out for the poor, says, "The worst recession since the 1930s has caused the steepest decline in state tax receipts on record."  As a result, 48 states are facing shortfalls of nearly $200 billion in 2010.  A recent report goes on to say, "Total shortfalls for 2010 and 2011 are likely to exceed $350 billion." (Click here for the full report)  Just California, New York and Illinois alone project a nearly $41 billion shortfall for 2010.
According to a recent Business Week article, America has a big debt problem that Congress needs to address now.  It says, "The mire facing California, for example, makes Greece's woes look somewhat manageable.  California, staring at a $20 billion budget gap over the next 17 months, accounts for about 13 percent of the U.S. economy.  Greece accounts for just 3 percent of the economy of countries that use the euro." (Click here for the full story)  
Yesterday, the President said, once again, that we must reduce our "soaring deficits."  The President took questions from reporters at a White House briefing.  Not a single reporter asked about the probable bailouts of states facing severe budget shortfalls.   Also, there was not a single question about the government taking on all the liabilities of failed mortgage giants Fannie Mae and Freddie Mac.  The $400 billion in spending caps were lifted for the next 3 years, and that totals more than $6.2 trillion in liability on mortgage backed securities. (The Fed has bought at least $1.25 trillion in this debt.)  Fannie and Freddie aren't just "pigs" but giant budget "hogs" that will scarf every spare dollar in sight.  And, can anyone tell me how we are going to reduce our deficit when the debt ceiling was just raised $1.9 trillion to $14.3 trillion?  This is another real oink-er!
To be fair, President Obama is not solely responsible for our "soaring deficits."  The blame can be shared equally between Democrats and Republicans over the last 20 years.  However, it's an election year, and it sure looks like bailouts of just about any state, bank or business are going to continue.  Any talk about reducing the deficit seems to be just that—talk.  Oink  Oink!