As Banks Go, So Goes the Economy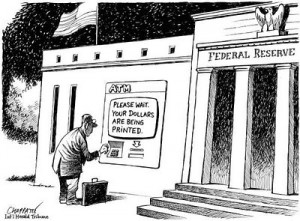 Greg Hunter's USAWatchdog.com
FDIC Chairman Sheila Bair gave a speech to the securities industry in New York City this past Wednesday.  In her opening remarks, she said, "Now, as a tentative economic recovery continues to build, and as the earnings of banks and other financial companies begin to recover, we must resist the natural impulse to return to business as usual.    Instead, now is the time to carry through with our work to strengthen financial market practices and products and sharpen our approach to financial regulation."  Apparently, the Financial Standards Accounting Board (FASB) wants to do just that and return to fair market accounting.  You may remember, since April of 2009, FASB changed the rules on how banks value their financial holdings.  When it comes to things such as real estate and mortgage-backed securities, banks can value those holdings at whatever they think they will get in the future.  Since the rule change, hundreds of years of accounting protocol have been trashed, and instead of "mark to market" (valuing an asset for what it will bring today), you have "mark to fantasy."  Professor of Economics and former regulator William Black says FASB turned the accounting rules "into a farce."  (Click here to read more from Professor Black.)   
I am convinced without this rule change, most of the big banks would be insolvent.   Instead of record breaking Wall Street bonuses in the last 2 years, there would have been pink slips and receivership for the big banks.  This would have been far cheaper for taxpayers, and we would be beginning a real recovery by now.
It now appears FASB wants to change the rule back to "mark to market" accounting.  CNBC reported this week, "Another ongoing regulatory process is FASB's proposal to substantially revise the accounting standards for financial instruments. Under the proposed rule, banks would be required to measure substantially all of their financial instruments at fair value on the balance sheet."  (Click here to see the complete CNBC story.)    So how does Chairman Bair greet this news?  She said this in her speech this week, "In short, we do not believe that a bank – whose business strategy is to hold loans and deposit liabilities for the long term – should be required to measure them at fair value on the balance sheet. Why? Because fair value does not necessarily reflect the manner in which the cash flows associated with these instruments will be realized or expended."  (Click here for Bair's complete New York Speech.)  Does Bair actually think toxic mortgage debt is going to be worth more in the future?  You have to be kidding.  The Fed recently said it sees more than 4 million foreclosures through 2012!  (Click here to read more on this story.) 
And, if you look at the number of the banks the FDIC is closing, I do not see how she can say we are in a "recovery."   So far this year, the FDIC has closed down 146 banks.  That is more than all of last year, and according to JSMineset.com, that number is "artificially low."  JSMineset.com reports, "The FDIC's closure of 38 banks over three months is by no means an insignificant number. However, in the context of the FDIC's overhang of troubled banks, it suggests the pace of bank closings is being kept artificially low.  As of April 2010, there were about 425 banks operating under serious FDIC enforcement orders that called into question the banks' solvency.  Since then, upwards of 25 new banks have come under such orders each month. . . . That backlog could only have grown."  (Click here for the JSMineset.com article.)  Do you think Chairman Bair would want bogus accounting rules to make banks look more solvent than they really are?  I can think of no other reason.   By the way, the main stream is completely ignoring the FDIC bank failure story.
In his latest report, economist John Williams of Shadowstats.com says the entire U.S. financial system is in deep trouble.  This is why the Fed started another round of QE to the tune of (at least) $600 billion over the next 8 months.  He says the money printing is, ". . . in response to mounting U.S. fiscal and systemic-solvency problems intensified by a still-unexpected "double-dip" recession, as well as in response to intensifying selling and dumping of the U.S. dollar and dollar-denominated paper assets in the global markets. . . . The U.S. government effectively is bankrupt and remains extremely likely to resolve this ultimate sovereign insolvency by printing money to meet its obligations.  As global pressures force the Fed into further Treasury 2011 debt monetization, as global confidence in the world's reserve currency evaporates, risks remain particularly high of a U.S. hyperinflation beginning to unfold in the first-half of 2011. . . along with severe economic, social and political consequences that will follow.  The outside timing for this manmade financial catastrophe remains 2014."
 Just as in the Great Depression, as the banks go, so goes the economy–and the banks are headed down.