AZ Audit Proves 2020 Election Fraud, Biden Attacks Unvaxed, USA is Broke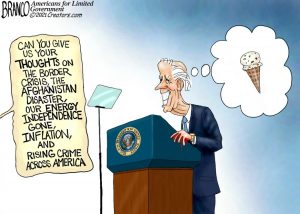 By Greg Hunter's USAWatchdog.com (WNW 494 9.10.21)
The results are in, and the Arizona audit of Maricopa county shows massive fraud in a state Joe Biden "won" by just 12,000 votes.  The big numbers include 173,000 missing votes and 96,000 so-called "Ghost" votes.  Keep in mind, the Maricopa County Board of Supervisors ignored subpoenas and did not hand over all the data asked for by the AZ legislature running the audit.  Will Senator Mark Kelly be recalled?  Will the 2020 Presidential Election in that state be decertified?  All these questions will be answered in the not-to-distant future.
VP Joe Biden is attacking the unvaxed in a new Executive Order (EO) mandating vaccines or weekly CV19 tests.  Some are already saying this EO is totally unconstitutional.  What happened to the Democrat saying "My Body, My Choice?  I guess when it comes to experimental vaccines, you get no choice.
Treasury Secretary Janet Yellen wrote a letter this week to Speaker of the House Nancy Pelosi and said the USA will stop paying its bills sometime in October if a new debt deal is not reached.  In short: The USA is broke.  I have never heard of a letter from the Treasury Secretary to Congress sounding this dire.  It shows the economy and the finances of America are on very shaky ground.  Prepare for rough sailing and hope for a deal.
Join Greg Hunter of USAWatchdog.com as he talks about these stories and more in the Weekly News Wrap-Up for 9/10/21.
(To Donate to USAWatchdog.com Click Here)
After the Wrap-Up:
Retired Lieutenant General Michael Flynn will be the guest for the "Saturday Night Post" 9/11/21.  He is crisscrossing the country on the "Reawaken America Tour" and has the popular nonprofit site called AmericasFuture.net.  General Flynn talks about the ongoing takeover of America by communists and globalists and much more eye opening information.