Bad Real Estate News Ignored to Spin Bright Future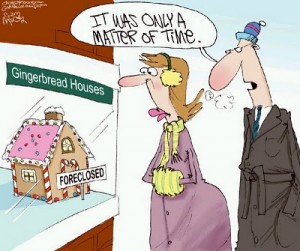 By Greg Hunter's USAWatchdog.com 
I was shocked to see this headline from an Associated Press story yesterday, "Economists project home sales, construction to rise sharply in 2011 from extreme lows of 2010."   I was dumbfounded by the title of the article and even more taken back when I read the story which said, "The forecast delivered at the International Builders' Show in Orlando sees U.S. economic growth sharply lifting home sales and residential construction over the next two years, but from near-historic lows posted last year. "  The chief economist for the National Association of Home Builders, David Crowe, said, "Single-family home construction, a bellwether for the housing market and the economy, will rise 21 percent to 575,000 this year and climb to 860,000 in 2012."  (Click here to read the full AP story.) 
That is still about 75% less new construction from the peak of the housing boom a few years ago.  This forecast was made just prior to yesterday's release of the "Year-End 2010 U.S. Foreclosure Market Report" from RealtyTrac.com.  Its headline read "Record 2.9 Million U.S. Properties Receive Foreclosure Filings in 2010 Despite 30-Month Low in December."  The report went on to say, "Total properties receiving foreclosure filings would have easily  exceeded 3 million in 2010 had it not been for the fourth quarter drop in  foreclosure activity — triggered primarily by the continuing controversy  surrounding foreclosure documentation and procedures that prompted many major  lenders to temporarily halt some foreclosure proceedings," said James J.  Saccacio, chief executive officer of RealtyTrac.  "Even so, 2010 foreclosure activity still hit a record high for our report, and many of the foreclosure proceedings that were stopped in late 2010 — which we estimate may be as high as a quarter million — will likely be re-started and add to the numbers in early 2011."   (Click here to read the entire RealtyTrac report.) 
So, a back log of foreclosures will increase by about 20% in 2011, which RealtyTrac is predicting to be another record year.  There have been 3 million repossessed homes since 2006, and RealtyTrac says there could be "3 million" more by 2013.  2010 was also a record year for repossessions with well over one million homes taken back by the banks.  Meanwhile, the National Association of Home Builders is expecting a 21% increase in new homes?
So, with all these foreclosures in the pipeline, there is only one way prices can go and that is down–right?  Not according to Crowe who is "forecasting prices for new and previously occupied homes to be flat this year and inch up 1.4 percent next year."  That is in stark contrast to people such as Yale economics professor Robert Shiller whose Case-Shiller index reported a rapid drop in home prices at the end of 2010.  The Business Insider reports, "Housing guru Robert Shiller says the decline in October's Case-Shiller house-price index was much worse than expected (over 10% annualized).  He also says that if house prices keep falling this fast, the economy will face "serious reasons to worry" (which, for Professor Shiller, is an apocalyptic statement.) . . . If prices continue to fall at this rate, Shiller expects the panicked Congress will issue another home-buyer tax credit . . ."   (Click here for the complete BI report.) 
Respected economist Gary Shilling thinks housing prices will fall (on average) another 20%.  Shilling has put together a 27 page slide show to back up his prediction.  If you want to see it and find out more about Mr. Shilling, you can go to the Business Insider by (clicking here.)
I feel for anyone in real estate or home-building, but fantasy projections will surely disappoint when they do not pan out.  Spin is not what is needed in journalism.  Now, more than ever, people need to hear the truth to correctly navigate this unraveling economy.  Optimism is a wonderful thing, but it is not a plan of action.