Barr Battle, 1% Rates Cut & Poynter Institute is Pointless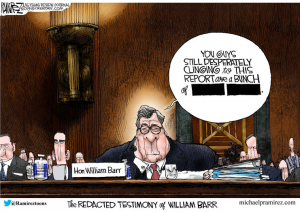 By Greg Hunter's USAWatchdog.com (WNW 382 5.3.19)
Attorney General William Barr refused to show up for a House of Representatives request for him to testify on Trump collusion that has now proven to be a hoax by the Mueller report. There are calls by Democrats to impeach Barr. Speaker of the House Nancy Pelosi has even accused Barr of lying in other House appearances. The DOJ says Pelosi's charge is "reckless, irresponsible and false." Why is this happening? I say it is all to discredit AG Barr. This way, when arrests happen for the Trump Russia hoax, the Dems can claim the Trump Administration is attacking them for their politics and not their crimes. It's not going to work, and this looks like a desperate act.
The President and his Administration have been asking for rate cuts and more QE (money printing). This time, the request came from President Trump himself for the Fed to cut rates by a full 1%. The Fed held rates steady this week, but the big question is why ask for a huge rate cut now?
The Poynter Institute calls itself a "global leader in journalism," but you cannot be a journalism organization that advocates cutting off funding for websites who don't agree with your politics.  If you do that, you are committing an act of propaganda.  USAWatchdog.com (deemed by Poynter as "bias") made a list of 515 "unreliable" news websites, and Poynter advocated for advertisers to cut off supporting all 515 sites. The report was written by an employee for the liberal advocacy group Southern Poverty Law Center, and Poynter is partially funded by Left-Wing globalist George Soros. If this report and Poynter are not "bias," I don't know what is, which makes Poynter pointless as a legitimate journalism organization, in my opinion.
Join Greg Hunter as he talks about these stories and more in the Weekly News Wrap-Up.
(To Donate to USAWatchdog.com Click Here)
After the Wrap-Up:
Now it seems that Poynter has taken down the entire list of 515 "unreliable" news websites, also known as  "UnNews" websites.  Click here to read the letter they posted on their website.  Poynter never contacted me after repeated phone calls to comment to USAWatchdog.com or to explain their list.  I wanted to ask questions about why the UnNews story and list was written by an employee of the Southern Poverty Law Center.  I also wanted to ask about Poynter's funding (in part) by George Soros.
Economist John Williams, founder of Shadowstats.com, will be the guest for the Early Sunday Release.
For a free Audio only download of WNW 382 5.3.19, click here.