Biden Doc Doo Doo, Ukraine Sucking, Fed Interest Increase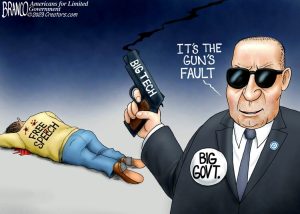 By Greg Hunter's USAWatchdog.com (WNW 564 1.13.23) 
Vice President Joe Biden is now in doo doo after government documents have been discovered at one of his homes.  They say the documents could be planted, stolen, a national security threat or just plain illegal for him to have.  What will come of it?  Is this going to be like the John Durham investigations with lots of fanfare and zero results?  Is this a ploy to get Biden to step down?  Who knows, but Biden is not going to prison for this.
Ukrainian President Volodymyr Zelenskyy took time out of his busy war schedule to speak at the Golden Globes, which was a ratings disaster.  Zelenskyy reassured the audience, "There will be no third world war."  Zelenskyy has been touting how well Ukraine is doing against Russia.  In the propaganda world, Ukraine is doing great.  In the real world, it is still sucking.  Speaking of sucking, now military brass is starting to worry about sucking U.S. war stockpiles dry after sending more than $100 billion in military help to Ukraine.  There is no end in sight to the war or the money funding it.
Everybody is expecting the Fed to stop fighting inflation and start cutting interest rates.  The latest CPI data says that is not going to happen anytime soon.  Inflation is still more than three times above the 2% target rate at 6.5%.  Also, services inflation soars to its highest level in 40 years.  Rent inflation is also headed straight up.  Expect more Fed rate increases–not cuts.
There is much more in the 48-minute newscast.
Join Greg Hunter of USAWatchdog.com as he talks about these stories and more in the Weekly News Wrap-Up for 1.13.23.
(To Donate to USAWatchdog.com Click Here)
(Video will play when it is finished processing at rumble.)
After the Wrap-Up:
Cycle analyst Bo Polny will be the guest for the Saturday Night Post.  Polny has some key dates to tell you about and gives us an update on the evil Deep State too.