Biden EU Disaster Trip, Vax Updates, Fed Stokes Inflation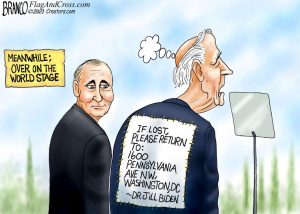 By Greg Hunter's USAWatchdog.com (WNW 485 6.18.21)
Vice President Biden went to Europe this week for the G-7 and a big meeting with the person Biden called a "killer" aka Vladimir Putin, President of Russia.  The G-7 meetings the public was allowed to see showed a weak and mentally lacking Biden.  He had cheat sheets to remind him to blame Trump for everything.  (I kid you not.  There are photos.) His handlers shouted down reporters asking off-script questions, and Biden even started calling President Putin by the name Trump and caught himself mid-word.  Biden was exposed as the incompetent and illegitimate imposter, and America suffered for it.  President Putin stuck it to Biden in an interview where he called Trump "talented" and "extraordinary" unlike "career man" Biden.  Ouch!!!!  In short, VP Biden's trip was an unmitigated disaster for "We the People."
There is more news about the CV19 vaccinations that the mainstream media and RINO's like Ohio Governor Mike DeWine say are safe.  DeWine wants to mandate them and force the experimental jabs on people.  He's the idiot with a lottery to bribe people to get the experimental Jab.  The Vax is anything but safe, and the death and injury numbers prove it.  That's not stopping Vax makers from arm twisting to get the Vax totally approved by the FDA.  It's being fought by medical people who have still not been bought off by Big Pharma.
The Fed wants its cake and eat it too.  It says inflation is rising, but it will be "transitory."  The Fed says it will start fighting inflation by the end of 2023.  Say what?  We have inflation, but we will starting fighting it in 2 years???  Meanwhile, the Fed is going to keep pumping out $120 billion a month propping up the repo market.  That's $1.2 trillion of money printing per year just for that alone.  This is like telling a drunk you have to stop drinking in two years, and then asking where do you want me to put this case of whiskey?
Join Greg Hunter of USAWatchdog.com as he talks about these stories and others in the Weekly News Wrap-Up 6.18.21.
(To Donate to USAWatchdog.com Click Here)
After the Wrap-Up:
Renowned geopolitical and economic cycle expert Charles Nenner will be the guest for the Saturday Night Post.  He will share his cycles for gold, silver, Bitcoin and many other commodities and markets.