Biggest Inflation in the History of History Coming – Bill Holter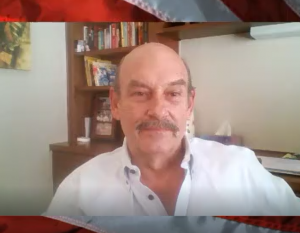 By Greg Hunter's USAWatchdog.com (Early Sunday Release)
Recently, one big name money manager after another is on record telling people to buy hard assets. Why? Financial writer and precious metals expert Bill Holter says they all know what is coming. Holter contends, "They understand that this is going to be the biggest monetary debasement in the history of history. They understand it's hyperinflation that is on its way. They are late to the game, and they do manage billions and billions of dollars, and I don't see how people talking about buying gold and buying silver are going to be able to get actual physical silver and physical gold in their hands or in their vaults."
Holter is warning of a failure to deliver metal because demand is out-running supply. Holter says, "So far, this year . . . for gold, they have already EFP (Exchange for Physical) 4,200 tons just for the first eight months. . . . They don't have the inventories to deliver. . . . The point being that is 4,200 tons in eight months. The world only produces 3,300 tons (of gold a year) and if you take out Russia and China, which do not export (gold), the whole total for the year is 2,800 tons. So, it looks like we are going to end up with 6,000 tons of gold EFP demand for delivery in a world that is only producing 2,800 tons. In silver, it's worse. In silver in the first eight months, there has been 1.6 billion ounces EFP. That number is going to end up to about 2.4 billion of silver ounces (EFP) and the world produces less than 800 million ounces a year. The bottom line to what all this means is there is going to be a failure to deliver. Once there is a failure to deliver, only the Lord knows what kind of prices we are going to be looking at for gold and silver."
Holter says a failure to deliver is not a maybe but a sure thing. Holter says, "Whether it is this year or the first few months of next year, it doesn't matter. It is going to happen. . . . I can basically guarantee there is going to be a failure to deliver, and that failure to deliver is going to unmask and scare the crap out of the entire fractional reserve banking system and the fractional reserve commodity system. The whole thing is going to come down in a panic because somebody gets a failure to deliver. . . . If you listen to what Trump is saying, he wants a lower dollar. How much of a lower dollar does he want? He's talking about debasing the currency to make the debt payable. . . . That is the most palatable way for any government to pay debt and that is to debase the currency and pay it off in monkey money."
Join Greg Hunter as he goes One-on-One with precious metals expert Bill Holter of JSMineset.com.
(To Donate to USAWatchdog.com Click Here)
After the Interview: 
There is lots free information and cometary on JSMineset.com. There is also a subscription service for original and cutting edge analysis from Holter and legendary market and gold expert Jim Sinclair. To become a subscriber, please click here.
This segment is sponsored by Discount Gold and Silver Trading. Ask for Melody Cedarstrom, the owner, at 1-800-375-4188.