Border Crisis, Obama Ordered Trump Coup, Retail Apocalypse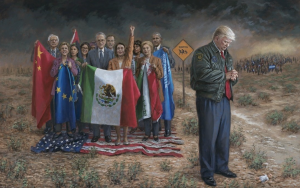 By Greg Hunter's USAWatchdog.com (WNW 378 4.5.19)
Don't believe what the Democrats and the mainstream media are telling you when they say there is no crisis on the Southern U.S. border. That's a huge lie, and the numbers speak for themselves. There was more than 100,000 apprehensions of illegal aliens in the month of March alone. Experts say the crisis is "manufactured."
The Mueller report is finished, and it proves there was no collusion and no obstruction by President Trump or his Administration with Russia. Now, the pain of a failed coup and huge lies told to remove a duly elected president are going to be felt by the perpetrators. One former federal prosecutor lays out the case that this treason goes all the way to President Obama. "He ordered it," says Joe DiGenova.
America is doing much better than the rest of the world, but the economy in the U.S. is showing signs of tanking. Thousands of stores are closing, and some are going out of business altogether in what some are calling a "retail apocalypse."
Join Greg Hunter of USAWatchdog.com as he talks about these stories and more in the Weekly News Wrap-Up.
(To Donate to USAWatchdog.com Click Here)
After the Wrap-Up: 
John Rubino, founder of DollarCollapse.com, will be the guest for the Early Sunday Release. Rubino will talk about the coming recession globally and here in the U.S.