Brace For Impact, mRNA Graphene Poison & Trump's Trials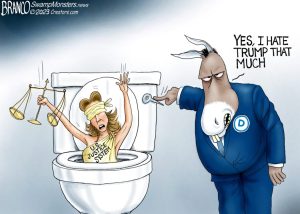 By Greg Hunter's USAWatchdog.com (WNW 577 4.14.23)
Don't let the Jim Cramers (CNBC) of the world tell you everything is great with the economy, and we are headed for new highs.  Just the opposite is coming, according to the IMF.  The International Monetary Fund is warning of a "heavy downside risk" because the banking crisis you were told was over is far from over.  Renowned economist Nouriel Roubini (aka Dr. Doom) says stagflation is a coming "mega-threat" and is warning of big "crashes."  It's not just the economy that is going to crash, but the U.S. dollar.  With all the bank bailouts and trillion-dollar spending plans in Congress, there is no way for the dollar to go anywhere but down.
They told us for years that there is no poisonous graphene in the mRNA CV19 bioweapon injections.  They lied—again—surprise!!   Newly released Pfizer documents say there is most definitely graphene in this swill passed off as some life-saving vaccine.  This graphene admission means mRNA based CV19 injections are, in fact, bioweapons, and they did NOT help a single person.  Nuremberg 2.0 here we come.
It's another week and another Deep State lawsuit to try and stop Donald J. Trump from getting back into the White House.  This week, it was yet another lawsuit from far left  New York Attorney General Letitia James to sue President Trump and his family about the value of their real estate holdings.  Trump was grilled for 7 hours in an attempt to get a $250 million judgment against Trump.  James is on the record several time making threats and promised she was going to get Trump while she was campaigning for her job.
There is much more in the 58-minute newscast.
Join Greg Hunter of USAWatchdog.com as he talks about these stories and more in the Weekly News Wrap-Up for 4.14.23.
(To Donate to USAWatchdog.com Click Here)
(Tech Note: If you do not see the video, know it is there. Unplug your modem and plug it back in after 30 sec.  This will clear codes that may be blocking you from seeing it.  In addition, try different browsers.  Also, turn off all ad blockers if you have them. All the above is a way to censor people like USAWatchdog.com.)
(Video will play when it finishes processing on Rumble)
After the Interview: 
Renowned geopolitical and economic cycle expert Martin Armstrong will be the guest for the Saturday Night post.  Spoiler alert:  Things are getting worse and not better on all fronts.  Armstrong will explain.