Can Economic Expansions Last, Bankers Warn Of Slowdown, Crop Trouble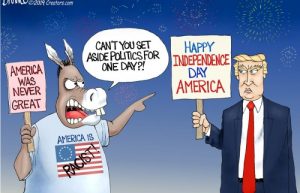 By Greg Hunter's USAWatchdog.com (WNW 391 7.5.19) 
Can economic expansions last forever?  The current economic expansion is the longest on record, and it really is only a matter of time (a short time) before it will end.  Is it going to end with a whimper or a bang?  I think we should all invest in ear plugs just in case. 
The central bank of central bankers is warning a "Slowdown is worsening," and there is not much they can do but print money, lots of money.  Is the BIS (Bank of International Settlements) really asking how much longer until a day of reckoning for all the debt created since the last meltdown in 2008? 
Crops are struggling right along with the frustrated farmers that have gotten so much rain and flooding.  Some will simply not be planting anything this growing season.  The USDA is already forecasting higher prices for crops and lower yields.  It's too early to tell how low, but farmers say the USDA is being overly optimistic.  Some farmers say this is a disaster of record proportions. 
Join Greg Hunter as he talks about these stories and more in the Weekly News Wrap-Up. 
(To Donate to USAWatchdog.com Click Here)  

After the Wrap-Up:
Gregory Mannarino of TradersChoice.net will be the guest for the Early Sunday Release.