China Virus Sinks Economy, Impeachment Disaster Continues, Everything Fake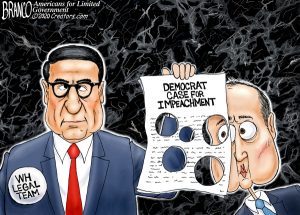 By Greg Hunter's USAWatchdog.com (WNW 417 1.31.20) 
The World Health Organization (WHO) has declared a global emergency because of the Coronavirus outbreak. Who knows how bad this will be, but the damage to China's economy, as well as the global economy, will be significant. The longer this goes on the worse it will be. Is this the financial black swan that can cause a financial disaster?
The Senate impeachment trial on the removal of President Trump continues, and it continues to be a disaster to the Democrats who brought the case. The case is beyond weak, it is a fraud and shows House Democrats to be in opposition to the law and the Constitution. Many legal experts have called the case a fraud and a Deep State operation to remove a duly elected President on false made up charges.
Is there anything that is real? The impeachment case against the President is a "hoax." The financial numbers on every stock and commodity are fake with zero real price discovery. Even the federal government does not have to keep accurate books. Do we live in an age of delusion where nobody believes or tells the truth?
Join Greg Hunter of USAWatchdog.com as he talks about these stories and more in the Weekly News Wrap-Up.
(To Donate to USAWatchdog.com Click Here)
After the Wrap-Up:
Financial expert Catherine Austin Fitts, Publisher of "The Solari Report," will be the guest on the Early Sunday Release to talk about the fraud and false economy where just about everything is fake, including the news.