College Scam Distraction, Failed Trump Coup Further Revealed, Economy Teeters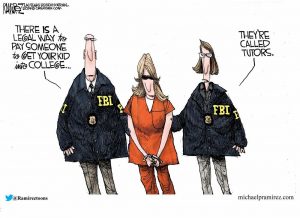 By Greg Hunter's USAWatchdog.com (WNW 375 3.15.19)
The college admissions and bribery scandal is a mess and has already sparked a class action lawsuit against the prestigious colleges involved. Many more lawsuits from aggrieved students and parents will surely follow.
The college scandal is merely a distraction to the biggest political story in U.S. history, and that is the failed Trump coup by the Obama Administration. It involved the FBI, DOJ and CIA and likely went all the way to the top at the White House. We found out this week that the FBI could not investigate the Clinton email scandal properly because it was not allowed access to the emails by the DOJ because of a deal cut with Clinton.
Is the economy worse than we are being told? There is record debt everywhere you look, and it appears that the economy is stalling. Is this why the Fed has done an about face and is stopping with the planned rate hikes?
Join Greg Hunter as he talks about these stories and more in the Weekly News Wrap-Up.
(To Donate to USAWatchdog.com Click Here)
After the Wrap-Up:
Economist Dr. Marc Faber, Editor and Publisher of The Gloom, Boom & Doom Report, will be the guest for the Early Sunday Release. He'll explain why he thinks a new recession is already underway.