CV19 Bioweapon Vax is Not Genocide, It's Extinction – Karen Kingston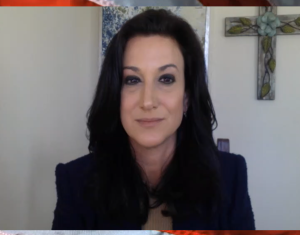 By Greg Hunter's USAWatchdog.com (Saturday Night Post)
Karen Kingston is a biotech analyst and former Pfizer employee who understands complicated medical and biological contracts.  Kingston also understands what it takes to make or defend a legal case against Big Pharma.  She has years of experience on multiple levels.  Kingston contends you do not need new laws to stop the CV19 mRNA technology.  Everybody simply needs to understand the CV19 vax and the mRNA technology are proven bioweapons.  The data shows millions have been disabled or murdered by the CV19 bioweapon/vax so far.  Is it going to get worse?  Kingston says, "Unfortunately, it is going to get worse.  The worst is yet to come. . . . The FDA did have to prove that these were safe.  Based on the information that they had in October and November of 2020, they should have never moved forward . . . with the trials.  So, they broke the law.  They knew it would cause all these disabilities and deaths. . . . I predicted a 25% myocarditis rate in July of 2021.  I have heard experts say we may be looking at 100%  . . . if they got two or three shots.  So, it's going to get bad."
Big Pharma and government are allowing mRNA technology (the same deadly bioweapon in the CV19 injections) to be put into the entire food supply.  Kingston contends this is to turn humans into trans-humans in something called "Directed Evolution."  Kingston explains, "Directed Evolution is forcing the evolution of humans to merge with DNA from reptiles, insects and artificial intelligence.  It's the bio-digital merger.  This is what this is, and there are multi-trillion dollar industries around this. . . . There is a whole bio-data division in DARPA in the U.S. military.  It is about merging the bio-digital with humans."
Many have been calling the CV19 bioweapon/vax that features technology poison such as graphene as a genocide.  Kingston contends it is far more than that.  Kingston says, "This is not for the benefit of humanity.  This is going to lead to our extinction.  I just do not know why people do not understand that."
Kingston demonstrates the electromagnetic properties of mRNA on a beef steak.  The quarter she uses sticks to a part of the meat where the mRNA had assembled because the mRNA creates a magnetic field.  (All patents Kingston has reviewed prove, without a doubt, mRNA is an electromagnetic device.)  Kingston says there is no need to pass new laws to stop evil Big Pharma, government and food producers from putting this in our food.  mRNA is a bioweapon, and it is illegal to put this in anyone's food.  Kingston says, "It's not that you want informed consent about mRNA technology in your food,  every state has laws on the books where weapons of biowarfare cannot contaminate the food supply.  I think what is most important is that we seize these mRNA injections.  Once we seize the shots and we get legal custody of that to show American citizens and global citizens what the technology is in the shots, then we can start shutting it down around the globe.  Not just in the 'vaccine' market, but show this is what is being put into our food supply and why all of this needs to stop."
Kingston contends the FDA and CDC knew early on mRNA CV19 bioweapon injections were going to cause a long list of serious debilitating and deadly diseases.  They continue to push the mRNA bioweapon on every aspect of our lives with no end in sight.
Kingston predicts by 2030, there will be 200 million disabled or murdered Americans by mRNA and CV19 bioweapon/vax injections."
There is much more in the 1-hour and 4-minute interview.
Join Greg Hunter of USAWatchdog.com as he goes One-on-One with renowned biotech analyst Karen Kingston as she gives an update on the bioweapon mRNA injections and why they need to be stopped for 4.28.23.
(To Donate to USAWatchdog.com Click Here)
(Tech Note: If you do not see the video, know it is there. Unplug your modem and plug it back in after 30 sec.  This will clear codes that may be blocking you from seeing it.  In addition, try different browsers.  Also, turn off all ad blockers if you have them. All the above is a way Big Tech tries to censor people like USAWatchdog.com.)
After the Interview:
To look at some of the data and documents on the CV19 bioweapon/vax containing deadly mRNA  that proves it is a bioweapon and a psyop released on an unsuspecting public, go to the [email protected].
To support Kingston financially, you can become a subscriber by clicking here.
(Please support the truth tellers.)
If you want to donate to Kingston electronically so she can continue informing the public, please click here.
If you want to make a snail mail donation to Karen Kingston, please do so at:
miFight Inc. 
960 Postal Way #307 
Vista, CA 92085