CV19 Conspiracy Facts, Mandate Sunk, Inflation Raging, War w/ Russia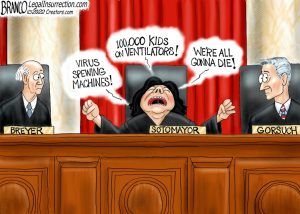 By Greg Hunter's USAWatchdog.com (WNW 512 1.14.22)
Give Project Veritas a hand because it has broken the biggest government coverup story since the infamous Pentagon Papers.  The release back then showed the U.S. government lied and covered-up a decade's long involvement in the Vietnam War.  Fast forward to today, and you see history repeating itself with the recently released papers form DARPA (Defense Advanced Research Projects Agency) and other government documents.  It shows the government was well aware of CV19 gain of function, vaccine plans, thwarting the use of Ivermectin and HCQ and the weaponization of a virus unleashed on the world to basically kill people and get them to take experimental vaccines out of fear.  This was racketeering to kill people so Big Pharm could make obscene amounts of money with a dangerous vaccine that was unnecessary and unneeded.  The "Pentagon Papers" helped end the Viet Nam War, and the "DARPA Papers" will hopefully end the CV19 virus and vax scam.   Maybe the Supreme Court took this into consideration when it voting down and sinking the Biden Vax mandates for private companies.
The latest inflation number is out, and the official number is 7%, which is well above the 2% Fed target rate.  In the real world, the inflation rate, without government gimmicks to lower it, is 15%, according to economist John Williams at Shadowstats.com.  To make matters worse, the PPI (Producer Price Index) just hit fresh record highs year over year coming in at 9.8% to the upside.  The Fed is in a panic to get control, but if it raises interest rates and cuts off the easy money, will it crash the economy?  Please keep in mind, there is mind blowing debt and derivatives in the hundreds of trillions of dollars, and experts say it would not take much of a nudge for the Fed to lose total control and melt it all down.
Last week, Russia, the USA and NATO were trying to ease tensions and work out an agreement to de-escalate the tension on Ukraine's border with Russia. The U.S. and NATO don't want Russia to influence the region, and Russia does not want more NATO countries on its border.  Talks ended without an agreement, and now the Biden Administration is talking about sanctions against Russia's leader Vladimir Putin.  How close are we to another war?  Maybe a lot closer than you think.
Join Greg Hunter of USAWatchdog.com as he talks about these stories and more in the Weekly News Wrap-Up.
(To Donate to USAWatchdog.com Click Here)
After the Wrap-Up:
Catherine Austin Fitts, Publisher of the Solari Report, will be the guest for the Saturday Night Post.   She will update us on Mr. Global's progress and what "We the People" can do now.