CV19 Vax Causes 'Turbo Cancer' – Dr. Ryan Cole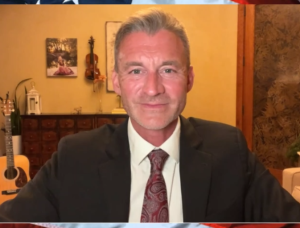 By Greg Hunter's USAWatchdog.com
Dr. Ryan Cole is a Board-Certified pathologist.  Dr. Cole is an expert in postmortem examination and has treated more than 500,000 patients.  He has a prestigious resume, including a five-year stint at the Mayo Clinic.  Dr. Cole has been fighting the CV19 narrative from infection to injection from the very beginning and told people not to get the CV19 vax.  For this, Dr. Cole was attacked by the globalist Deep State until he was forced to sell his medical diagnostic business that staffed around 80 employees.  Cole has been put out of work for telling the awful truth about the deadly CV19 vax.  More than a year ago, Dr. Cole called the global CV19 vax "Absolute Insanity," and the data today says he was correct. Dr. Cole says the world is now seeing skyrocketing increases in "Turbo Cancers," disabilities, death and infertility.   There were nearly 700 million CV19 bioweapon injections in USA alone.  Dr. Cole explains, "This CV19 injection was not a vaccine.  The media and people's place of work coerced them into thinking it was a vaccine.  This was a gene-based injection.  It was violated from the beginning, according to FDA rules.  The FDA knows we have to have long-term safety data.  We have to have reproduction safety data.  We have to have mutation/cancer safety data, and they did not do any of those studies with those injections.  Keep in mind, Moderna had never brought a product safely to market.  Pfizer never brought an mRNA product safely to market.  So, we had an experiment on the global population."
Dr. Cole says one of the very big problems with the CV19 vax is it destroys the immune system and stops your ability to fight cancer.   The truth-telling medical community is calling these new aggressive fast-spreading cancers "Turbo Cancer."  Dr. Cole explains, "As I travel the world and talk to doctors, they tell me they are seeing cancers in age groups they have never seen before, and it happened after the rollout of the CV19 shots. . . . Ed Dowd and his group went into the UK and looked at disability sets.  In 2020, there was about a 1% increase in cancer.  In 2021, there was about a 6% or 7% increase of cancer.  In 2022, there was a 35% increase above average in cancer.  That data is really concerning. . . . We are seeing young people appear in an emergency room with leukemia, and they are gone within a week.  We are seeing people who were cleared of their cancer, and it was in remission 2, 5, 10 and even 20 years . . .where after the shots, their cancer aggressively came back."
In closing, Dr. Cole says, "In my medical opinion, the CV19 vax was all risk and no benefit. . . . The CV19 shots did not help a single person. . . . These shots have to be stopped.  We are living under a tyranny of lies."
There is much more information in the 41-minute interview.
Join Greg Hunter of USAWatchdog.com as he goes one-on-one with pathologist Dr. Ryan Cole as he exposes the covid lies that are disabling and murdering the planet for 10.11.23.
(To Donate to USAWatchdog.com Click Here)
After the Interview: 
You can get lots of free information on Dr. Cole's website at RColeMD.com.
To support Dr. Cole with electronic donations, click here.  If you want to support his legal defense fund, click here.
For snail mail donations:
Dr. Ryan Cole
7988 West Marigold Street
Boise ID  83714 
Please support the truth tellers who have risked it all to save lives.