Do the Opposite of Ben Bernanke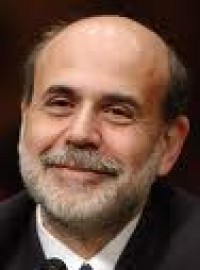 By Greg Hunter's
Fed Chairman Ben Bernanke gave testimony to the U.S. House Budget Committee a couple of days ago.  His preposterous statements seemed to go unquestioned by the Committee.  So, I am going to tackle the highlights, ask a few questions and make several statements of my own that I think should have been made by our Congressmen.
First up, this statement, "On the inflation front, recent data continue to show a subdued rate of increase in consumer prices. For the three months ended in April, the price index for personal consumption expenditures rose at an annual rate of just 1/2 percent, as energy prices declined and the index excluding food and energy rose at an annual rate of about 1 percent."  One percent inflation is a joke!  The government computes inflation using gimmicks that make it look lower than what we in the real world experience.  According to Shadowstats.com, if inflation was computed the way the government did it in 1980, the "real" inflation would be about 9.5 %.
Bernanke spoke on the outrageous bonuses and pay packages of the bailed out bankers.  Here's what he said, "We will be pushing the banks to move as quickly as possible to restructure their compensation packages so that they will not be engendering excessive risk-taking. So we will be doing that very quickly."  Quickly?  What the hell have you been doing Mr. Bernanke?  The financial meltdown was caused by greedy incompetent bankers two years ago!  Last year, this group of weasels paid themselves nearly $20 billion in bonuses!  At the time, Obama called it "shameful."  Now you are going to crack down on compensation?  It's about time!
Here's something that shocked me coming from the man who is in charge of the nation's more than 8,000 ton gold supply.  Bernanke said, "Gold is out there doing something different from the rest of the commodity group. I don't fully understand the movements in the gold price, but I do think that there's a great deal of uncertainty and anxiety in financial markets right now. Some people believe that holding gold will be a hedge against the fact that they view many other investments as being risky and hard to predict at this point."   Gold is money!  Every dollar you print to bail out your banking buddies around the globe makes gold shine that much brighter.
Bernanke is the cheerleader in chief when it comes to the recovery story.  The Fed Chief said, "It appears to us that the recovery has made an important transition from being supported primarily by inventory dynamics and by fiscal policy toward recovery being led now more by private final demand, including consumer spending. That is encouraging in terms of the sustainability."  This from the guy that said housing was not in a bubble.  When housing started to crack, he said it would be "contained." Bernanke did not see the financial meltdown coming either and fought against regulation of toxic derivatives.  He should be fired for missing any one of these, but he missed them all and still got to keep his job.  Bernanke is the ultimate contrary indicator.  Do exactly opposite of what he says.  Earlier this week, fund manager Peter Schiff said, "Back in 1931, two full years after the Crash of 1929, there were still very few people who thought that the recession then underway would one day be called the Great Depression. Increased spending, financed by unprecedented borrowing, will prove to be just as temporary as a US census job (unless, in the name of stimulus, Obama decides to make "people counting" a permanent function of the US government.). When the bills come due, the next leg down will be even more severe than the last."  (Click here to read the rest of Schiff's comments.) 
Bernanke thinks the European debt crisis is just about over.  He said, "The actions taken by European leaders represent a firm commitment to resolve the prevailing stresses and restore market confidence and stability. If markets continue to stabilize, then the effects of the crisis on economic growth in the United States seem likely to be modest."  Renowned investor George Soros sees just the opposite. This past week, he said, Europe's financial troubles have "just entered Act II"of the crisis.  Soros also said, "The collapse of the financial system as we know it is real, and the crisis is far from over." (Click here to read the Soros story.)
Finally, the Fed Chairman took time to warn that America must get its financial house in order.  He said, "Achieving long-term fiscal sustainability will be difficult. But unless we as a nation make a strong commitment to fiscal responsibility, in the longer run, we will have neither financial stability nor healthy economic growth."  It really takes enormous balls to tell Congress to be responsible!  The Fed has been saving failed banks with trillions of dollars printed out of thin air.  Both foreign and domestic financial institutions have benefited from the secret bailouts.  The country is totally in the dark about what banks got bailed out and how much we gave them.  The Fed has not been audited since it was started in 1913.  Ben Bernanke thinks America is supposed to get its financial house in order when taxpayers can't even peek though the window to see what the Fed is doing in its house.  This was some rich testimony delivered by Ben Bernanke.   (Click here for the complete testimony.)