Does the Mainstream Media Lie by Omission?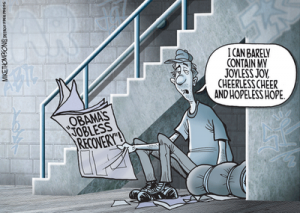 The writer of the following article publishes a very successful local newspaper called the "Rhino Times."  John Hammer is a 33 year newspaper veteran.  He has a big local following in Greensboro, North Carolina, and thinks big.  One of the recurring themes of USAWatchdog.com is something I call "The Soft Truth."  It happens frequently because the mainstream media does cheap superficial stories and ignores what I call the "Hard Truth."  Hammer's piece is less about taking President Obama down and much more of an indictment of what the mainstream media is NOT telling you.  Is an omission the same as a lie?  I think it is when it makes things look better than they really are, and Mr. Hammer feels the same way.  Please enjoy this well researched article.   I have the permission from Mr. Hammer to reprint it for USAWatchdog.com readers. –Greg Hunter–
———————————————————————-
By John Hammer
Guest Writer for Greg Hunter's USAWatchdog.com 
The mainstream media have protected President Barack Hussein Obama for as long as there have been articles about him. The mainstream media consider it racist to question anything about his background, upbringing or education.
Obama's popularity is dropping and continues to drop, and now the mainstream media, led by The New York Times, have left simple protection behind and are going with boldfaced lies. The New York Times on Thursday, August 5, ran an article under the headline "President and Illinois Stay at Arm's Length." In that article, Matt Bai states, "Unlike some past presidents, Mr. Obama has no chronically embarrassing relatives – no unpredictable brother like a Billy Carter or a Roger Clinton to crowd the gossip pages, no grown children like Patti Davis to publicly disavow his policies."
Incredible. It's not entirely false. Although Obama does have such relatives, the mainstream media refuse to write about them, so they don't embarrass him as much as they would if the news media wrote more about his relatives as they have written about the relatives of other presidents, both Democrats and Republicans. Why don't they write about Obama's relatives? Is it because to do so would be considered racist? Or is it because to do so would be embarrassing to Obama, and the press has never worshipped a president like they worship Obama? Probably a little of both.
Obama has an aunt from Kenya who was living in dilapidated government housing in Boston and was in this country illegally. If President Ronald Wilson Reagan had had an Irish aunt who had snuck into this country illegally and was living in a public housing project in Boston, do you think it might have been big news? The stories about Obama's aunt were big in British newspapers, but not so much in American newspapers. Remarkably, after Obama was elected president, the federal government decided that his aunt could stay in this country legally. The New York Times pointed out repeatedly on its website that Obama did not intervene. Obama is not just the president, he is an extremely wealthy individual. Why is his aunt living at taxpayers' expense?
According to the London Times, Obama's "Uncle Omar" was evicted from his one bedroom apartment in Boston for being over $2,000 behind on his rent.
Obama wrote about his African relatives affectionately in his book Dreams from my Father, but he doesn't appear to do anything to help them.
And Obama has a lot of African relatives. Obama's father had children with at least four women. After he left Obama and his mother in Hawaii, Obama Sr. went back to Kenya and had more children with his first wife, whom he never divorced.
Obama has a host of relatives living without running water or electricity in Africa. Some of them came to his inauguration. One of his brothers came to the inauguration in a sweater and blue jeans. Imagine if Roger Clinton had showed up at Bill Clinton's inauguration in blue jeans. Do you think that might have been news?
Obama has a brother George who, according to the London Telegraph, was living in a hut that measured 6 feet by 9 feet. He said he was living on less than a dollar a month.
Why hasn't President Obama helped his family? He is worth millions of dollars. Before he became a public figure, he and his wife, Michelle, gave almost nothing to charity. But doesn't it seem like spending a few thousand dollars to help your family would be the right thing to do? If Obama sent his brother George $12, he would double his yearly income.
Obama has a brother who lives in China and exports goods to the US. When Obama traveled to China he met briefly with his brother. That visit probably made millions of dollars for his brother, because the Chinese saw that he really could meet with the president of the United States. Doesn't that seem like news that should be widely reported? Obama's brother in China has written a book about being raised by Obama Sr., a book that it seems President Obama, who didn't know his father, might be interested in reading. But Obama told a reporter he had not read it.
One of Obama's brothers is a radical Muslim. It is also true that Obama went to a Muslim school when he was living in Indonesia. His defenders say that it was not a radical Muslim school, but they don't deny that it was a Muslim school.
Very little is actually known about Obama's upbringing and personal history. But what is accepted as the truth about his past come from his two autobiographies. However, in his first book he admits to creating composite characters and changing people's names.
Obama also admits studying the Quran in school in Indonesia. His younger sister Maya Soetoro-Ng was quoted by The New York Times as saying, "My whole family was Muslim, and most of the people I knew were Muslim."
One of Obama's teachers in Indonesia says that Obama not only studied the Quran but took a class to memorize the Quran in Arabic, which would not be done by anyone who was not a devoted Muslim.
A childhood friend described Obama as someone who enjoyed playing football and marbles and as being a very devout Muslim.
It appears that one reason Obama has distanced himself from his own family, including his brother Malik, who was the best man at his wedding, is because Malik is described as a militant Muslim. Obama was also the best man at Malik's wedding.
The mainstream media is willing to allow Obama to change even his own autobiography so that now he was never a Muslim. There are school records and people who say otherwise.
The huge question here is why does Obama feel that he has to deny his heritage? He is not responsible for the kind of school his parents put him in or the type of religious institution they made him attend. Why does Obama feel that he cannot admit that he did go to a Muslim school and was being raised to be a devout Muslim? He writes about Quran class in his autobiography, but now that personal history is being rewritten by the White House, and the mainstream media are allowing it to be done.
This is not ancient history. The New York Times had a team of reporters work for months to try and come up with a story about Sen. John McCain having an affair with a female lobbyist. But The New York Times can't spare a reporter to go to Indonesia and interview people who taught Obama or went to school with Obama. Most schools keep records. The mainstream media have certainly given us full background on other presidents. Obama not only gets to write his own personal history, but when some of what he has written becomes inconvenient, then he gets to rewrite it.
Being raised a Muslim would go a long way toward explaining why Obama left the prime minister of Israel in his office and went upstairs to the residence to eat dinner. A diplomatic insult of that degree is difficult to comprehend unless there is more to it than not liking the way the meeting was going.
, , ,
It is so interesting that Democrats running for office this November are running away from Obama as fast as they ran toward him in 2008. When Obama was running for president, the stage didn't appear to be big enough to hold all of the Democratic candidates who wanted to be seen with him.
Now they hide in a closet when they hear that Obama is coming to town. The mainstream media have to report on such behavior, but it's not considered big news.
When Obama went to Texas this week he was greeted at the airport by Republican Gov. Rick Perry, but the Democratic candidate for governor, Bill White, was as far away from Austin as he could get. Fortunately for White, Texas is a big state and his duties on the campaign trail kept him as far away from the president as possible. This was reported on page A12 of The New York Times.
Some might think that the president being dissed by members of his own party in the country's second biggest state was big news, but the unbiased journalists at The New York Times keep making the unbiased decision that derogatory news about the president is not important and good news about the president is of the utmost importance.
, , ,
Yet another example of The New York Times pulling out all the stops, including the one that reads "honesty," when it comes to protecting their president: Paul Krugman, a columnist for The New York Times, went after Minnesota Congressman Paul Ryan for Ryan's plan to get the country out of this economic mess. Ryan calls his plan "A Road-map for America's Future."
Krugman wrote, "Mr. Ryan isn't offering fresh food for thought; he's serving up leftovers from the 1990s, drenched in flimflam sauce."
Krugman is critical of a report from the Congressional Budget Office (CBO), which he claims that Ryan misrepresented.
But it is not the CBO that is charged with evaluating a plan like Ryan's, it is the job of the Joint Committee on Taxation. This is not something that the average man on the street knows, but you would expect Krugman to know it. Instead Krugman used the figures from the Tax Policy Center, which he describes as nonpartisan. It is funded by the Brookings Institute, which is considered a left-wing organization by conservatives.
It is funny, but according to the mainstream media, left-leaning organizations like the Brookings Institute are considered non-partisan, but right-leaning organizations like the Heritage Foundation are never considered anything but right wing. It all depends on where you are standing.
, , ,
What we know about Obama is basically what he has told us. According to Obama, in his time as a community organizer his job was to organize the community so that it would get more assistance from the government. He wasn't organizing the community to work on its own, or complete its own projects, but to get the government to give it more money, and that appears to be his solution to problems.
————————————
John Hammer, a native of North Carolina and a graduate of Duke University, has been the editor of The Rhinoceros Times since it was founded in 1991.  He began his journalistic career in 1977 at Halifax County: This Week in eastern North Carolina and has won numerous awards from the North Carolina Press Association.  Before becoming editor of The Rhino Times Hammer worked as a news director, bouncer, bartender, missionary, free lance writer,  English as a foreign language teacher, and as the deputy director of operations for Electric Vehicles, SA.
The Rhinoceros Times is a weekly newspaper, that covers the political scene in Greensboro and High Point, North Carolina, from a conservative point of view.  (Click here to go to Rhinotimes.com)  John Hammer's column is called "Under the Hammer".  The Rhino Times also features columns and articles by renowned science fiction author Orson Scott Card and recently published a 92-part series giving an inside look at the Greensboro Police Department by New York Times best-selling author Jerry Bledsoe.  It is the most successful conservative alt-weekly in the country.