Dollar Will Be Sliced in Half – Bill Holter & Jim Sinclair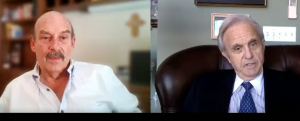 By Greg Hunter's USAWatchdog.com
Near the beginning of this year, legendary investor Jim Sinclair and his business partner Bill Holter said the reset would start in June. Is the recent jump in gold prices confirming this? Sinclair says yes and predicts a two-tier reset in the next few years. . . . The first will be a devaluing of the dollar. Sinclair explains, "The reset has already started. . . . The only thing holding up the dollar is its universal use as a contract settlement mechanism in Russia and China and everywhere else, and that simply is not happening anymore. . . . The dollar is going lower. . . . In the first reset, the dollar will get sliced in half.  That means the little guy will get sliced in half in terms of his buying power. You need to look at gold, not a speculation, but as a savings account. If the dollar gets sliced in half, you basically double the value (of your gold) if not more. I think much more. . . . In the second reset, that will take gold to a price where it will balance the ability to pay global debt. That's the major move coming forward. Right now, we are definitely going back to the $1,850 and $1,925 area per ounce for gold. The second reset, you can pick any price you want for gold. Pick a high price."
With the national debt officially at $22 trillion, and the additional "missing" $21 trillion discovered by Economics Professor Mark Skidmore at Michigan State University in 2017, you have a huge amount of debt and dollars floating around. This fact makes Sinclair's prediction of $50,000 per ounce gold a few years ago look conservative. Bill Holter has done the math and says it simply must go much higher. Holter explains, "If you take the 8,300 tons the U.S. supposedly has, and I did this math last year when the official national debt was approaching $21 trillion, gold would need to be $87,000 per ounce to cover just the on books debt. I am not talking about the "missing" money, not future guarantees, pensions, Social Security and things like that. . . . So, the number is $87,000 per ounce for gold or multiples of that. What's going to happen? The people who are running this understand this as much as we do, and the system is going to go down. So, why not create a false flag and kick the table over so you can point at it and say our policies would have worked if it wasn't for whatever event they come up with."
Can they put this off until after the 2020 election? Holter says, "It just might be one big last kick of the can . . . but prepare yourself and prepare your family. Have extra food. Have a way to purify water. Make a plan where you can go it alone for a couple of weeks or a couple months or more. That is what is coming for us all. Trump is going to preside over a bankruptcy. When he was elected, we predicted that he would preside over the bankruptcy of the United States. . . .The math says it is guaranteed."
Sinclair says, "He is a master at bankruptcy. You maintain the item that is a producing asset, and you 'jubilee' or get rid of debt that has failed. You go through with a machete and take everything down that does not produce. . . . We have been warning people to be their own central banks and be able to take care of themselves for no less than 90 days."
Join Greg Hunter as he goes One-on-One with financial writer Bill Holter and legendary investor Jim Sinclair of JSMineset.com.
(To Donate to USAWatchdog.com Click Here)
After the Interview: 
There is much free information, articles and analysis on the home page of JSMineset.com. To get even more original information, articles and analysis, you can become a subscriber for $129 a year. Click here to be a subscriber to JSMineset.com.
This segment is sponsored by Discount Gold and Silver Trading. Ask for Melody Cedarstrom, the owner, at 1-800-375-4188.
For a free audio download on this video click here.