Double Dips Coming Everywhere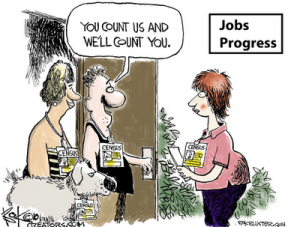 By Greg Hunter's
 Respected banking analyst Meredith Whitney dropped a bomb on CNBC at the beginning of the week by saying, "Unequivocally, I see a double-dip in housing.  There's no doubt about it . . . prices are going down again." Whitney warned as foreclosures and short sales go north, bank profits head south.  She said, "You look at the non-performing loans on bank balance sheets and they have doubled in one year alone . . . so you've got this massive rotting pool of assets on the bank balance sheets." (Click here to see her CNBC two part interview.)  When asked if there was going to be a "double-dip" in the overall economy, all she would admit to is  "better than a one percent chance" of that happening.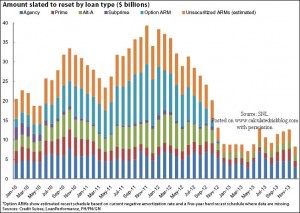 I want to show you this simple chart from Credit Suisse.    I have used this chart before in posts such as "Real Estate at a Bottom . . . Not!"    This chart was updated by Credit Suisse in March of this year.  It is clear and predictive as to the future of residential real estate.  It shows the adjustable rate mortgage resets for Sub-Prime, Prime, Payment Option Arms and Alt-A loans.  Just take a look at how the chart is a roller coaster ride that ends with a giant crescendo at the end of 2011 and beginning of 2012.   After than the reset mess does not bottom until around September of 2012.  Let me remind you, this chart is just for residential real estate.  Commercial real estate is another disaster altogether.
Many people will not be able to afford the higher payments and will just walk away from the home.  That's the trend we have been seeing, and it will continue.  The bottom in residential real estate will not happen until the reset mess is cleared out.
There is only "better than a one percent chance" of a double-dip in the overall economy?  You have got to be kidding.  Even the Federal Reserve is worried about a slowing economy.  Comments from its April meeting released this week said, "Financial conditions have become less supportive of economic growth on balance, largely reflecting developments abroad.   Not only is the Fed concerned about a double-dip in the U.S., but it is concerned Europe is also heading into the tank.  (Click here for the complete Fed press release on the April meeting.) 
I have been telling you for months there is a 100% chance of a double-dip recession and so has John Williams of shadowstats.com.  In his latest report, Williams says, "What appears to be happening in the sudden "unexpected" weakening of a number of business statistics is a combination of reporting catch-up and a re-intensification of the economic downturn."  Please let the last few words of that sentence sink in—"a re-intensification of the economic downturn."  Williams also sees housing in a downward spiral as the latest new home sales are down "40.5%."  That is a new record low.
Williams also notes an employment recession is coming back as temporary census workers are being laid off because they're no longer needed.  He says, "I would look for an outright contraction of June payrolls, net of temporary census impact.  Such would mean an aggregate monthly loss in excess of 250,000 jobs. . . . Looking ahead, there still are 330,737 temporary census hires that will lose their jobs in the next couple of months, depressing reported payroll change in July and August, etc."  Also, state and local governments are in the process of laying off 2 million workers because more than 32 states are in deep financial trouble.  There are about a million people who are now completely out of unemployment benefits, and there is no job creation engine (at least in the private sector) in sight.
To sum things up:  the banks have a "massive rotting pool of assets," we are losing jobs again, and housing prices are going to take another hit.  So, double- dips are coming to all parts of the economy in the second half of the year.  To combat the flagging economy, the government will pour more money on the problem.  Already, Congress is bringing back the home buyer tax credit.  Maybe there will be another cash for clunkers program too?  I am sure there is going to be continued bailout money for the states because it is an election year.   I would not be surprised to see another stimulus program, although it will be called something else.
Meanwhile, President Obama is encouraging all members of the G20 to print money and worry about inflation tomorrow.  I say prepare for inflation now because with the out of control debt and spending, the dollar could suddenly sink and cause inflation to spike.