Downturn Coming, Not Recovery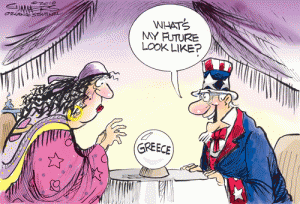 By Greg Hunter's USAWatchdog.com 
A buddy of mine, who is a business broker, recently told me, "I have never in my life seen more broke people."  I told that little quote to a car salesman I was talking with over the weekend, and he told me, "Don't I know it! I am in the car business, and I see it all the time."  Those are not the words you hear from the front lines of business that say a so called "recovery" is at hand–quite the opposite.    
According to the latest report from Shadowstats.com, signals are intensifying for a "renewed economic downturn."  Economist and founder of Shadowstatscom, John Williams, says the actual money in the overall economy is "declining."  There is no wonder why the amount of money is shrinking; just take a look at the unemployment rate.  According to Williams, it stands at 21.7%, if calculated the way Bureau of Labor Statistics did it prior to 1994.   Last weeks jobs report did not really improve the picture much because nearly 95% of the 431,000 jobs added in May were temporary government census workers.  Below are what a bad job market and a plunging money supply look like on a chart, compliments of Shadowstats.com: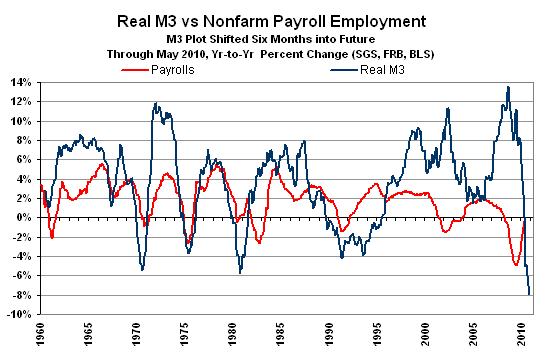 But, it's not just Williams sounding the alarm.  Plenty of warning signs that things might be taking a turn for the worst popped up all over the Internet just last week.  For example, this is from economics writer Darryl Robert Schoon, "We are entering a period of deep change. The abrupt re-appearance of systemic risk in May is the wake-up call for the April fools who believed the financial crisis was over, that credit-driven prosperity would return with only more credit, that debt could be rolled forward ad infinitum, and that mankind, thank GOD, was once again in control of its destiny.  There is a great deal of difference between affecting destiny and controlling it.  If you don't know the difference, don't worry. You will."  (Click here for the complete article by Schoon.)  In 2007, Schoon wrote the book, "How To Survive The Crisis And Prosper In The Process."  His analysis of the current financial meltdown has been spot on.
Then there was this from analyst Gordon T Long, "We are nearing a 'phase shift' in what I will refer to as the energy level of the markets. Elliott Wave practitioners would refer to it as a 'higher degree pivot'. W D Gann practitioners would call it a Gann Cardinal. Economists call it a "Tipping Point". I call it a 'Critical Point' or 'Chaotic Transient'.   A trader would just call it a market melt-down or melt-up! Few alive have ever witnessed either."  (Click here for the complete Gordon T Long article.) 
Finally, my last warning sign that things are not turning up is news that bankruptcy filings are up an astounding 9% in May from a year ago.  According to the American Bankruptcy Institute Executive Director, Samuel J. Gerdano, "Consumer filings this year remain on track to top 1.6 million filings."  (Click here for more on that story.)  The good news is May's filings are down slightly from April's record month.
Broke people filing for bankruptcy in near record numbers is not a sign of a turnaround.  The signs from just last week are ominous, to say the least.  America's debt clock just tripped the $13 trillion mark!  That means America's debt is more than 90% of Gross Domestic Product.  When that phenomenon occurs in a country, it is almost always a sign a severe economic upheaval is coming.  I hope I am wrong.