FBI Investigates Biden Family, Journalism Dead, Economy Up & Down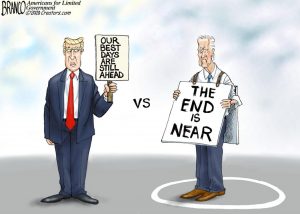 By Greg Hunter's USAWatchdog.com (WNW 455 10.30.2020)
More bad news for the Biden crime family hit this week when it was discovered there is an active FBI criminal investigation into "Hunter Biden and associates" in what is now an obvious influence peddling scheme that has been going on for many years. Emails on Hunter Biden's laptop and whistleblowers confirm that Joe Biden is taking part in this action. The bigger story is the mainstream media (MSM) is either ignoring it or passing it off as, wait for it, more Russian disinformation. Of course, this is a huge lie, and all the information that has been released so far has been totally confirmed by multiple U.S. government sources.
The MSM has reduced itself to a DNC propaganda machine to protect Joe Biden and help him defeat Donald Trump. They are now outright making up stories with zero backup or sources calling the Hunter Biden revelations a "smear campaign." This is a huge crime to misinform the public and not tell them before a Presidential Election that candidate Joe Biden is compromised and sold out to multiple enemies of America. The MSM is complicit in treason, in my mind.  Journalism is dead at the soo to be bankrupt MSM.
There is good news and more bad news in the economy. The GDP is up a record 33%, and it looks like Trump has America heading in the right direction. The bad news is another 775,000 people filed for unemployment last week, and simply not enough jobs are being created to put America back to work in bigger numbers.
Join Greg Hunter of USAWatchdog.com as he talks about these stories and more in the Weekly News Wrap-Up.
(To Donate to USAWatchdog.com Click Here)
After the Wrap-Up:
Bill Holter and legendary gold expert Jim Sinclair from JSMineset.com will be the guests for the Saturday Night Post.