Fed Cannot Stop Money Printing – Craig Hemke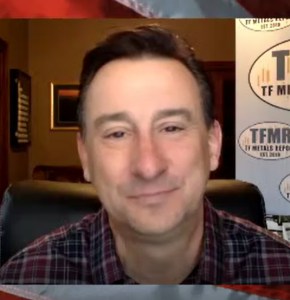 By Greg Hunter's USAWatchdog.com
A year ago, financial writer and precious metals expert Craig Hemke predicted the Fed would be forced to return to money printing. He was right. Hemke also predicted this would be bullish for gold and silver prices. He was right again. Now, Hemke says, unlike the other times, this time, the Fed will not be able to stop the money printing. Hemke explains, "You've got to keep printing cash to service all this accumulated trillions and trillions of dollars of debt. You can't grow your way out of it. You have to print your way out of it. They can't let the stock market go down. I think it's a $20 trillion total market cap. If it went down by 25%, it would be $15 trillion. That would be $5 trillion that would just go poof, and now, your liquidity crisis is that much worse. . . . They can't afford to let it go down because it will exacerbate the liquidity crisis."
On the China Coronavirus, Hemke says, "It's bad enough with all the people dying and everything, but this didn't just get fixed. It didn't just get cured. There are still Chinese cities that are quarantined. Flights to Hong Kong, even now, are being suspended. All of this is going to impact the global economy . . . and it's going to make the central banks print even more cash. . . . They cannot afford to let it (stock market and economy) go down."
Hemke also says, "The Fed is monetizing the debt as we speak, and they will continue to do so. That cash goes into the stock market and makes it keep going up, which they've got to have. What people need to understand is this is madness, and it's only going to get worse, and that is also why you have to own gold and silver."
Hemke forecasted months ago if gold would hold above $1,550 per ounce, that would be the support the yellow metal would need to launch higher. Hemke says, "The next target will become $1,650, and I think by the end of the year, we will see $1,750 for another pretty solid year. Silver will be $20 to $22 per ounce (by the end of the year). If people really want to make some cash . . . the real opportunity is in the mining shares. . . . Total global asset allocation to the precious metals sector is less than 1%. If it goes to 2%, you have twice as much cash chasing a relatively finite amount of goods. . . . Twice the cash chasing the same amount of goods means higher prices. It's not that complicated."
Join Greg Hunter as he goes One-on-One with gold and silver expert Craig Hemke, creator of TFMetalsReport.com.
(To Donate to USAWatchdog.com Click Here)
After the Interview:
There is some free information on TFMetalsReport.com. If you want to subscribe, use the promo code "Hunter" and get your first month half off.
To read Hemke's forecast for precious metals "2020 Foresight A look ahead to a volatile but profitable year," click here.
This segment is sponsored by Discount Gold and Silver Trading. Ask for Melody Cedarstrom, the owner, at 1-800-375-4188.