Fed Prints Money or Financial System Implodes – Rob Kirby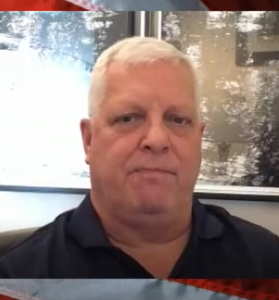 By Greg Hunter's USAWatchdog.com (Early Sunday Release)
Macroeconomic analyst Rob Kirby can sum up the massive Fed money printing it is doing each and every day. Kirby explains, "We are on a vertical curve where money has to be added to the system. . . . The Federal Reserve knew this would occur at some point 20 years ago. This is why they had to create a slush fund, which has grown into a very large pile of dung heap money. What's being reported to us on a daily basis in terms of the 'add' from the repo activity is just the publicly acknowledged addition of money. The "missing" $21 trillion is in play, also, and it's being added to the system to keep the system from crapping out and imploding. We are, without a doubt, on a vertical growth curve of money."
To hide what is going, on the Fed is going to extraordinary measures to suppress the precious metals market to not allow growth in price that would reflect massive money printing globally. Kirby says, "The stench of criminality and collusion wafts over the COMEX now like a veil of evil. What they have turned our capital markets into with price suppression, so they can maintain the air of legitimacy and value to the dollar, is going off the charts."
If money is being printed, aren't interest rates going to spike? Kirby contends, "The reality is we should have had an interest rate spike already because there is no demand for increasing amounts of U.S. debt.  With the amount of debt that is now outstanding, if interest rates were to spike, the first dead body would be the U.S. government itself. The U.S. government would not be able to fund itself, and the jig would be up on the dollar. We are told the dollar is strong, but the reality is the dollar is not strong at all."
President Trump, at some point, is going to have to deal with this debt problem and bankruptcy of America. Kirby says this is why the elite are working so hard to get rid of President Trump. Kirby contends, "They want to get rid of him because they can't control him. If the system is going to blow up, they want a person in charge that they have control of. They do not have control of Donald Trump. . . . He is still his own man, and he knows the difference between right and wrong. . . . They are afraid that he might point the finger at the true culprits of the breakdown that is coming. That's why they want him out."
Join Greg Hunter as he goes One-on-One with Rob Kirby of KirbyAnalytics.com.
(To Donate to USAWatchdog.com Click Here)
After the Interview:
There is some free information on KirbyAnalytics.com. If you want more cutting edge original macro-economic analysis, you can become a subscriber by clicking here.
This segment is sponsored by Discount Gold and Silver Trading. Ask for Melody Cedarstrom, the owner, at 1-800-375-4188.