Fed Will Drive Gold to New All-Time Highs in 2021 – Craig Hemke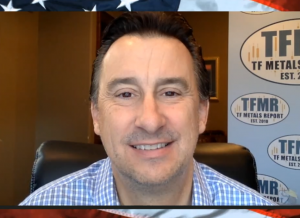 By Greg Hunter's USAWatchdog.com
About this time last year, financial writer, market analyst and precious metals expert Craig Hemke predicted the Fed would encourage inflation and gold would finish the year at around $1,800 per ounce.  It finished at a little more than $1,900 per ounce.  Hemke was spot on.  So, what is Hemke predicting this year?  Hemke says, "In my annual forecast that I just published last week, one of my themes was 'don't fight the Fed.'  If you have been a stock market investor, I am sure you have heard that term used before, and it works for the precious metals this year as well.  The Fed will take some significant actions over the course of this year, and that will drive gold and silver higher.  Gold will go to new all-time highs at some point, and silver is going to participate too."
Hemke contends the Fed will be obsessed with rising interest rates and printing enormous amounts of money to suppress them.  Hemke explains, "At the end of 2018, the Fed had been on this course for five years and spinning this lie that they were going to normalize their balance sheet.  This meant they were going to go back down to $1 trillion, which is where they were in 2008.  (Currently the Fed balance sheet/debt is more than $7 trillion and rising.) . . . .  It was never going to happen—never.  They also said they were going to normalize interest rates.  So, retirees who wanted to live off of CD's and interest rates going back to 7%.  That was never going to happen either.  We have so much accumulated debt, not just public, but private, that the economy will absolutely collapse . . . if interest rates go up. . . . The U.S. economy cannot afford higher rates.  Whether it's line item interest on the national debt because that could exponentially could go out of control or the private debt where people who just barely have a $1,000 in savings can't have their credit card rates go over 20%, or auto rates go back over 6% or 7%, or mortgage rates go to 4% or 5%.  They just can't.  When we talk about rates going higher, it's not that the 10 Year Treasury goes to 1.15%, which is where it is now, what they can't afford is the 10 Year Treasury going to 2% or 3%. . . . As inflation picks up from all this money printing, the Fed can't allow the 10 Year Treasury to go to 3% . . . the Fed will, at some point, institute yield curve control."
Hemke says yield curve control by the Fed will cap interest rates, but the money printing and inflation will have to rise dramatically.  This is why Hemke is predicting, "By the end of 2021, gold will be $2,300 per ounce and silver will be around $45 per ounce."
In short, printing money to cap interest rates will result in much higher prices for gold and silver, and Hemke predicts this is the trend into the future.  Hemke also warns, "The gold and silver bull market will be a bucking bronco, and it will try to throw investors off."  In other words, investors will have to hang on tight and expect volatility to be high–especially in silver.
Hemke also says there is "permanent damage from Covid 19 . . . and the economy will not be bouncing back in any sort of "V" shaped recovery."
Join Greg Hunter of USAWatchdog.com as he goes One-on-One with Craig Hemke, founder of the popular website TFMetalsReport.com.
(To Donate to USAWatchdog.com Click Here)

After the Interview:  
If you want to read Craig Hemke's free post called "2021: A Gold Odyssey," click here.
There is other free information on TFMetalsReport.com.
If you want to subscribe, use the promo code "Hunter" and get your first month half off.  (This offer is for monthly subscriptions only.)
This segment is sponsored by Discount Gold and Silver Trading. Ask for Melody Cedarstrom, the owner, at 1-800-375-4188.