Flynn Free, HCQ MSM Lies, Economy Trouble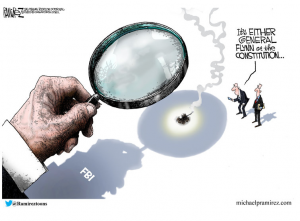 By Greg Hunter's USAWatchdog.com (WNW 430 5.8.2020)
General Michael Flynn is a free man after the DOJ dropped all charges against President Trump's former National Security Advisor. New documents released recently showed a conspiracy to frame the 33 year war hero. It was all part of a plot by the Obama Administration, FBI, DOJ and CIA to try to remove President Trump from office. It is an elaborate coup attempt that failed and is looking like the case for indictments for conspiracy and sedition for many people may be coming from AG Barr and his prosecutor John Durham. This certainly will factor into the ongoing criminal investigation into the obvious criminal activity.
More new studies about the effectiveness of Hydroxychloroquine (HCQ) in curing Covid 19 are coming out to refute the mainstream media (MSM) lies about this lifesaving drug. The MSM misquotes valid studies or ignores them and quotes fraud and fake studies all in an effort to make the public think that HCQ is not curing people who use this drug. It's just another reason that shows the MSM fake news is an enemy of the people. There is blood on their hands.
Everybody is happy that parts of the U.S. economy are beginning to open up, but is there really cause for this much celebration especially in the stock market? A hard look at the facts shows the country and the world has a long road to recovery.
Greg Hunter of USAWatchdog.com talks about these stories and more in the Weekly News Wrap-Up.
(To Donate to USAWatchdog.com Click Here)
After the Wrap-Up:
Legendary trader and gold expert Jim Sinclair and his business partner, financial writer Bill Holter, will come on the Early Sunday Release to give their appraisal of where America is financially, where we are going and how fast we will get there. We are nowhere near the bottom, and, unfortunately, very dark days are ahead for "We the People." Don't miss it!