Global Deflationary Implosion Will Start Money Printing-Egon von Greyerz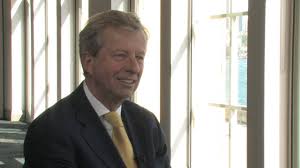 By Greg Hunter's USAWatchdog.com  (Early Sunday Release)
Gold expert and money manager Egon von Greyerz says Japan is leading the parade to the bottom of the currency heap. Greyerz says, "Japan is printing unlimited amounts, and we can see that yen is leading the race to the bottom of the currencies.  Gold in yen is now only 10% below the peak because printing is debasing the currency.  That is what gold reflects.  Gold just reflects the destruction of paper money.  That's happening in Japan, and it will happen in most other countries.   Greyerz goes on to say, "The Eurozone is under tremendous pressure, and it is virtually going into a deflationary implosion, and the ECB (European Central Bank) cannot let that happen because there will be no chance of the European banking system surviving with a deflationary implosion. Therefore, I am absolutely convinced the ECB is not far from starting to print major amounts of money, and that will accelerate in the next year. The U.S. is just a little bit behind, and the U.S. will also have to start printing money."
Greyerz also predicts, "The yen is collapsing, and I think the next one to fall is probably the dollar, and I think that fall could actually be imminent. That's going to happen at the same time gold starts going up."  Greyerz goes on to explain, "There is no reason for the dollar to be strong.  It is size wise the most indebted economy in the world.  The so-called good figures coming out of the U.S. are not happening in the real economy.  It's happening for some companies through financial engineering and the figures are not as good as they are being reported. We know ordinary people are suffering in the U.S., and the U.S. has the biggest debt in the world that will never be repaid. Tax revenues are more or less constant while the debt is going up exponentially."
Egon von Greyerz thinks a new round of money printing in the U.S. will happen soon. Greyerz predicts, "Absolutely, I think early in 2015, the first quarter or the second at the latest.  It will definitely happen, and by the way, I hate this word QE (quantitative easing).  They make up these words so no one can understand them.  What is QE?  I like to call it MP because that's what it is—money printing.  They are destroying the value of money by printing unlimited amounts.  We all know you cannot create wealth by printing money.  If we could, we would all just stop working and print money."
On the vote to back the Swiss Franc with 20% gold, von Greyerz says, "The whole of the elite were against us. Now, we thought the people, the Swiss people, would be on our side because the Swiss people understand the importance of gold.  They were clearly influenced by the massive campaign of the government and of the central bank.  The losses for the Swiss National Bank could have been very serious, and that's why they were quite desperate to stop this initiative."  Egon von Greyerz goes on to say, "Switzerland now has to print money.  The currency is only backed by 7% gold, and now they have a free-for-all to print more money . . . this, of course, will be very bullish for gold because it won't be just Switzerland. Virtually, every country in the world will start printing money. " 
Join Greg Hunter as he goes One-on-One with Egon von Greyerz, founder of Matterhorn Asset Management. 
(There is much more in the video interview.)
After the Interview: 
Egon von Greyerz added that gold will be thousands of dollars higher in price in the not-so- distant future. He says the time to buy mining stocks and bullion is now.  There is lots of free information on von Greyerz' website, GoldSwitzerland.com.