Has Anything Changed on Wall Street?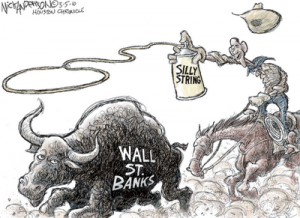 By Greg Hunter's USAWatchdog.com  
Whistleblower Harry Markopolos is on the stump promoting his new book titled "No One Would Listen." It is about how it took 8 ½ years for the Securities and Exchange Commission to crack down on the Bernie Madoff scam.  Markopolos says he sent letters to the SEC that were "too many to count" in an effort to expose the fraud.  In an interview on "The Daily Show" this week, Markopolos said something about the SEC that really caught my attention.  He said, "They still have all the same people there.  They haven't fired anybody, that's the problem."  (The complete Daily Show segment is below)

The SEC missed the single biggest fraud in history (estimated at $65 billion) and not a single regulator lost their job over this screw-up?  What is this regulatory body for but to protect investors?  Is the SEC really just a public relations ploy to make people think Wall Street is being regulated?  That's the way it looks to me when I hear there is no house cleaning going on.  There is no effort to change the tone and direction of the agency.  It is just business as usual, and that's the way Wall Street likes it.
Speaking of the Madoff scam, angry investors are suing the Securities Investment Protection Corporation (an industry insurance fund) to get some of their money back.  May I simplify the real problem for you here?  I called SIPC yesterday and asked how much is in the insurance fund to pay jilted investors?  I was told it was "$1.159 billion at the end of February." How long do you think that is going to last when considering Madoff's crime was $65 billion?  How many other scams will this be able to pay off?  There is simply not a lot of money in their fund considering the trillions of dollars in investments it is insuring.  Is SIPC real insurance for a large calamity or just PR to make you "feel" safe?
What about the rest of Wall Street? Certainly there have been new laws and big changes made to protect against another meltdown?  After all, it was Wall Street's reckless investments that caused the financial crisis.  Eighteen months after the mess started, there is not a single new law or regulation for the financial industry! According to a new Harris Poll released this week, 82% of Americans want the government to clamp down on the financial industry.  There is legislation currently in Congress for new regulation and consumer protection, but there is no telling when or if anything will be passed.
So, does that mean we can continue along our merry way?  Not according to people, such as Harvard law Professor Elizabeth Warren, who is part of a new nonpartisan group asking for stronger financial reforms.  In a recent report the group warns of "Another financial crisis on the way." An ABC News story also says, "The report warns that the country is now immersed in a "doomsday cycle" wherein banks use borrowed money to take massive risks in an attempt to pay big dividends to shareholders and big bonuses to management – and when the risks go wrong, the banks receive taxpayer bailouts from the government.  "Risk-taking at banks," the report cautions, "will soon be larger than ever." (Click here for the complete ABC story.)
The European Union is not waiting for another fiscal calamity.  This week, it simply barred Wall Street banks from government bond sales that are extremely lucrative.  A story from The Guardian provides a reason for the move with this quote, "Governments do not have the confidence that the excessive risk-taking culture of the big Wall Street banks has changed and they still cannot be trusted to put the stability of the financial system before profit," said Arlene McCarthy, vice chair of the European parliament's economic and monetary affairs committee." (Click here for the complete Guardian story.)
There is no doubt the U.S. needs financial reform, but it will not fix the tail spinning economy that Wall Street greed has already put in motion.  Nothing has changed.  There is still big time risk to you and your money in the next market meltdown.  Don't expect the SEC to be looking out after your best interests because Harry Markopolos says, "They work for Wall Street, not for us investors."