Hurricane Harvey Disaster for America, Fuel Prices, Economy Sinking into Recession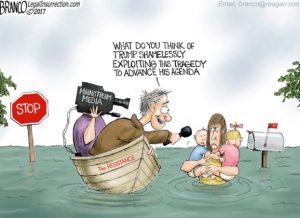 By Greg Hunter's USAWatchdog.com (WNW 299 9.1.17)
Hurricane Harvey has ravaged Texas and Louisiana, but losses will spread across the United States. Everyone will feel the impact in some way.  Hurricane Katrina losses totaled $175 billion, and Harvey could be twice that or more.  (Texas Rep. Pete Sessions: Harvey Impact Could Reach $1 Trillion.)  Oil prices will spike, and banks and insurance companies, ultimately, will face big losses on flooded housed and vehicles.
At least 25% of refinery capacity has been shut down by Hurricane Harvey. Experts say that this will cause fuel and petroleum product prices to spike.  How high will prices go?  Will there be shortages?  It will take weeks and months to find this out, but higher prices are locked in now.
The latest figures from ShadowStats.com are out, and economist John Williams says it looks like a recession is "imminent or one is already underway."
Join Greg Hunter as he looks at these stories and more in the Weekly News Wrap-Up.
(To Donate to USAWatchdog.com Click Here)
After the Wrap-Up: 
Financial writer and gold expert Bill Holter of JSMineset.com will be the guest for the "Early Sunday Release."