Iran Deal Done Deal, Middle East Tensions Mounting, Fake Economic Recovery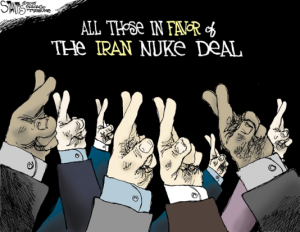 By Greg Hunter's USAWatchdog.com (WNW 206 9.4.15)

President Obama has now gotten enough Democratic senators to sustain a veto on the Iran nuke deal. Never mind that the details of the deal are being kept secret. Never mind that the so-called side deal to inspect Iran's military nuclear sites is not known to Secretary of State John Kerry. Remember, he told Congress he "did not have access" to them. It appears the details of UN inspections of Iran's nuclear sites is also a secret to Congress. If you want to know what is really in the Iran deal, just listen to the Iranians. They have been consistent from the beginning and say their nuclear military sites are off limits and said it again this week. Also, the sanctions end when the deal is in place. The Iranians also get $150 billion to boot, and even the Obama Administration admits there is no way of stopping them from using that money to support terror. The Obama Administration is celebrating this as a big foreign policy victory. The majority of Congress, and this includes some Democrats, are against the deal. The majority of Americans are against the deal. It was not a choice between war and a deal. It should have been a choice between a deal and a better deal that actually would lead to stability and peace in the Middle East. This deal will speed up the war prospects in the region, not slow them down.
Speaking of war, Russia is moving more men and aircraft into Syria. Russian pilots are going to fly fighters and attack helicopters against ISIS. It is also reported, Russian soldiers are going to fight alongside Syrian troops with armed vehicles and tanks. The Obama Administration says this is "both destabilizing and counterproductive." Well, that's funny, at least one country is going to try to shut down the Islamic State, and that is "destabilizing and counterproductive"?
To be fair, the U.S. is also moving more troops and equipment to Eastern Europe. It is reported that NATO is opening a military coordination unit in Lithuania. This is a result of growing tensions over the ongoing Ukraine crisis.

Meanwhile, the Iranians continue to make preparations to "overthrow Israel and liberate Palestine." It is also reported that Iranian military officials promise to "set fire" to U.S. interests in the Middle East, and, of course, this includes Israel. Iran military leaders also say that the Islamic Republic welcomes war with America. Please keep in mind, these are the folks that are getting $150 billion in the Iran nuke deal. The Iranian people are good, but their leaders not so much.
Here we go again on the so-called "recovery." Headline says "Fed says Economy Expanding Slowly," and I says bull crap on yet another phony recovery story. If we did have a real recovery, we would not need phony accounting since 2009,, and we would not need 0% interest rates, and we would not need all the QE or money printing. Yale professor Robert Shiller is warning of a steep stock market sell off and says the Dow could tumble back to 11,000 if it were priced in normal price earnings ratios. Please keep in mind, Dr. Shiller is a Nobel Prize winner in economics and warned the market was overheated in his best-selling book "Irrational Exuberance" before the crash in 2001. In other news that shows there is no real recovery, "Bond King" Bill Gross warns "future returns are likely to be limited if not downward sloping." In a new report, Gross is worried about how to get out of 0% interest rates without "red zone losses." Here is some more good news, Russia is going to pass a law that will outlaw the use of the U.S. dollar with its main trading partners.
Join Greg Hunter as he talks about these stories and more in the Weekly News Wrap-up.
Correction:  In the first reference I misspoke and said the U.S. spent $150 billion to train moderate rebels min Syria.  That is incorrect.  The second reference is correct.  I said the U.S. spent $500 million training moderate rebels in Syria.