Is Economic Anarchy Coming?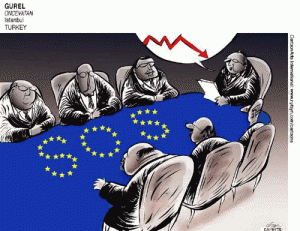 By Greg Hunter's USAWatchdog.com  
The financial malaise the world finds itself in right now can be summed in just one sentence.  There is way too much debt.  It is such an enormous amount of debt that most people cannot grasp its size.   It is a sum that is unparalleled in human history.  There are only two ultimate conclusions to debt–it either gets repaid or it does not.  If debt is repaid in printed money, then that is that same as a default.  The world will either repay its gigantic debt or default with money created out of thin air.  What is at stake here is the world monetary system and what will constitute money in the future.  
Wonder why everyone is making such a fuss about the debt of a tiny country such as Greece?  Greece is only about 3% of the European Union economy.  So, why is the world so concerned?  A default by Greece could set off an interconnected daisy chain of debt dominos that could throw the world into a depression.  Then, why not just bail them out and be done with it?  Here is what expert investor Jim Sinclair said recently on his JSMineset website:  "If the Dark Side can break Greece, using Germany, propaganda and the rating agencies as the tools, it will be open season on six of the weakest countries debt next.  More depends of the resolution of the Greek situation than Greece and the euro. . . . Then comes the dollar because of its outrageous (for a major currency) debt to GDP as a percentage position.  Save Greece, and the West advances at warp speed towards a form of Western world Weimar. (hyperinflationary Germany of the early 1920's) We are damned if we do, and immediately damned if we do not."  (Click here for the complete story)
Harvard history professor Niall Ferguson wrote an article last week called "A Greek Crisis Is Coming to America." The crisis Ferguson sees is not imminent, but he seems to see one coming sooner than later.  Ferguson says, "Yet even a casual look at the fiscal position of the federal government (not to mention the states) makes a nonsense of the phrase "safe haven." US government debt is a safe haven the way Pearl Harbor was a safe haven in 1941. . . . On reflection, it is appropriate that the fiscal crisis of the West has begun in Greece, the birthplace of Western civilization. Soon it will cross the channel to Britain.  But the key question is when that crisis will reach the last bastion of Western power, on the other side of the Atlantic."  (Click here for the full article.)
You are probably thinking blah, blah, blah, what does this mean to me?  Paul B. Farrell of Market Watch tries to answer that question for the common man.  Before I share with you what he wrote last week, I want to let you know a few things about Farrell.  He's a former big time Wall Street guy with a PhD.  He's written 9 books, including a best seller, and more than 1,400 articles for Market Watch.  He is not some nut hanging out in a cave hoarding shotgun shells and cans of pork and beans.  Farrell is a real guy with real credentials!  So, when he recently wrote an article titled "How to invest for a global-debt-bomb explosion"– I took notice.  The article is much more about survival than investing, and it is written with the common man in mind.  Farrell wrote, "The Big One is coming soon, bigger than the 2000 dot-com crash and the 2008 subprime credit meltdown combined. A huge market blowout. And as Bloomberg-BusinessWeek predicts: "The results won't be pretty for investors or elected officials." One of Farrell's sources only gives the complete breakdown scenario a one in ten chance, but I get the feeling Farrell sees the chances of anarchy much higher.  Farrell says, "This is no joke, folks. Are you prepared? Or preparing? Will your family survive in a post-apocalyptic world, when anarchy is rampant in America? Look at Washington, Wall Street and Corporate America today. You know it's already begun.  You are witnessing a fundamental breakdown of the American dream, a systemic breakdown of our democracy and our capitalism, a breakdown driven by the blind insatiable greed of Wall Street: Dysfunctional government, insane markets, economy on the brink. Multiply that many times over and see a world in total disarray. Ignore it now, tomorrow will be too late."
If you read nothing else this week, please make time to read this article.  It amazed and, quite frankly, shocked the hell out of me.  If Farrell is only half right, then things will get much worse than they are right now.  (Click here to read Farrell's complete article)
America is not going to end.  There will be a brighter tomorrow someday, but make no mistake– very tough times are coming.  They will come sooner than most people think and be with us longer than anyone can imagine.  I feel the better informed and prepared you are, the better off you and your family will be.