Israel is "Master of Its Fate"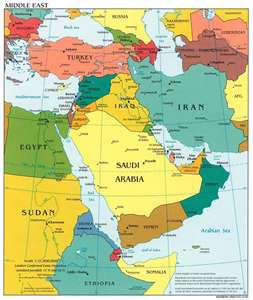 By Greg Hunter's USAWatchdog.com 
On Monday, President Obama and Israeli Prime Minister Benjamin Netanyahu met in the White House to discuss how they were going to handle Iran's nuclear program.   I think the meeting was a disaster for anyone who thinks we are on the way to settling the situation with sanctions and diplomacy.  The President wants to give sanctions against Iranian banking and petroleum exports a chance to work.  They are harsh and getting rougher by the month.  Maybe they are working because, just yesterday, the Iranians agreed, once again, to face-to-face negotiations with world powers.  Then again, maybe they are not because many suspect the Iranians are stalling for time–again.  Talks about Iran's nuclear program have been on and off since Obama took office.
In Monday's meeting, Mr. Netanyahu took time to address the President in front of reporters, and I think he was sending a clear message that an attack on Iran was coming.  First of all, he said, "For them, (Iran) you're the great Satan, we are the little Satan; for them, we are you and you are us, and you know something, Mr. President? At least on this last point, I think they're right. We are you, and you are us — we're together."  I do not think this was some offhanded throw away comment but a carefully prepared statement the Prime Minister practiced many times before saying.  In my mind, Netanyahu was really saying that if Israel attacks Iran, then the U.S. should expect retaliation by Iran.  I think the Israeli PM was giving fair warning to America when he said, "We are you, and you are us."
At no time did Netanyahu mention diplomacy or giving more time for sanctions to work.  Mr. Netanyahu went on to say, "Israel must reserve the right to defend itself and after all, that's the very purpose of the Jewish state, to restore to the Jewish people control of our destiny, and that's why my supreme responsibility as prime minister of Israel is to ensure that Israel remains the master of its fate."  After this meeting, there is no way anyone could be taken by surprise if Israel attacks Iran's nuclear sites and there is an Israel-Iran War.  (Click here to see the complete video of Benjamin Netanyahu's comments to the President.)
Later, Mr. Netanyahu addressed the American Israeli Public Affairs Committee (AIPAC) and said, "We waited for diplomacy to work; we've waited for sanctions to work; none of us can afford to wait much longer."  Iran has long said its nuclear program is for the peaceful production of energy and has adamantly denied it is working on nuclear weapons.  Many in the West do not believe this, including Israel.  Netanyahu also said, "Amazingly, some people refuse to acknowledge that Iran's goal is to develop nuclear weapons. You see, Iran claims that it's enriching uranium to develop medical research. Yeah, right. If it looks like a duck, walks like a duck, and quacks like a duck, then what is it?  That's right, it's a duck. But this duck is a nuclear duck and it's time the world started calling a duck a duck." (Click here for more on Netanyahu's AIPAC speech.)
Israel is not the only one talking about attacking first.  Iran has also threatened a preemptive strike.  Just a few weeks ago, it was widely reported, "Iran would take pre-emptive action against its enemies if it felt its national interests were endangered, the deputy head of the Islamic Republic's armed forces was quoted by a semi-official news agency as saying on Tuesday.  "Our strategy now is that if we feel our enemies want to endanger Iran's national interests, and want to decide to do that, we will act without waiting for their actions," Mohammad Hejazi told Fars news agency."  (Click here for the complete story.)  Iran has also repeatedly threatened to close down the Strait of Hormuz.  That's a narrow shipping passage on the Eastern Persian Gulf where nearly 20% of the world's oil is taken to market by sea every year. 
I don't fault the President for wanting to end the dispute diplomatically.  Sure, it's an election year, and an attack on Iran will most definitely spike oil prices and cause an already fragile economy to plunge to new depths.  But, I want to give the President some credit for being cautious.  He knows all too well the many negative outcomes of an attack.   Gasoline prices in the U.S. could double in short order.  How long would it take the economy to crash and burn if people had to pay $8 a gallon to fill their tanks?  The sovereign debt crisis in Europe would spiral out of control as high fuel prices would deepen the recession already gripping the Eurozone.  Banks in the U.S. would also be in trouble as they are exposed to trillions of dollars in credit default swaps with European banks.  The U.S. 5th fleet would surely come under attack in the Persian Gulf.  Iran has supersonic aircraft carrier destroying missiles and torpedoes that travel at speeds of more than 200 miles per hour under water.  Russia and China are reportedly supplying Iran with military hardware and technology.  Would one or both of these countries come to Iran's aid?   There would be armed conflict to open the Strait of Hormuz, and oil shipments by tanker would come to a standstill.  Who knows how long shipping traffic would be stopped.  Saudi Arabia would probably also come under attack by Iran.  The Iranian military would want to cut oil shipments by land from leaving the Kingdom to the West.  It would also want to strike its refineries and oil fields.  In that case, fuel prices would rise to extreme heights. The entire world would feel the economy killing effects of war in the Middle East.
With Syria dealing with a full blown revolution, Hezbollah is now in disarray on Israel's Northern border.  Is this another reason for Israel to attack now?  Even though the President wants to settle the dispute with sanctions and diplomacy, Mr. Obama reportedly has approved a request by Israel for aircraft and bombs to strike Iran.  Haartz.com reported yesterday, "Prime Minister Benjamin Netanyahu requested the United States approve the sale of advanced refueling aircraft as well as GBU-28 bunker-piercing bombs to Israel during a recent meeting with Defense Secretary Leon Panetta, a top U.S. official said on Tuesday.  The American official said that U.S. President Barack Obama instructed Panetta to work directly with Defense Minister Ehud Barak on the matter, indicating that the U.S. administration was inclined to look favorably upon the request as soon as possible."  (Click here for the complete story.)  
Like it or not, all the words and actions by all sides are pointing to war in the Middle East.  It appears Israel is "master of its fate" and the rest of the world's too.