JP Morgan Chase Continues PR Blitz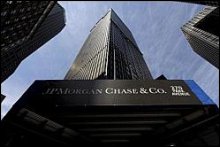 By Greg Hunter's USAWatchdog.com
I was watching the FOX Business channel, and who did I see again–Jamie Dimon, Chairman and CEO of JP Morgan Chase.  Charlie Gasparino had what he called a "no holds barred" interview with Dimon.  I watched two long segments of the interview, and once again, it appeared like a PR story for the bank.  In one of the segments, Gasparino said that Dimon, ". . . took every question I threw at him . . . I think he sees himself as a spokesman for the industry."  It was too bad Gasparino was throwing softballs.
Gasparino asked about the company's sagging stock price, and what was wrong with the (so-called) recovery.  These are hardly hard ball questions in light of the many lawsuits facing JP Morgan that allege some sort of fraud.  I wrote about some of the lawsuits in a post I did last week titled "USA Today Gives JP Morgan Free Pass."  I guess Charlie didn't read it.  If he had, he could have asked about the lawsuits alleging mortgage and foreclosure fraud.  I would also love to have heard what Dimon would have said about some of the missing client assets that were reportedly transferred to JP Morgan just before MF Global went under.  I think it could have done JP Morgan some good to have heard what the CEO of the bank had to say about these important and thorny issues, but what do I know.
Gasparino asked about the President characterizing the big banks as "fat cats."  Dimon responded, "I've disagreed from the beginning of this blanket blame of all banks are all bad guys.  I think that's just a form of discrimination and it should be stopped.  It doesn't lead to productive conversation."   (Click here to see much more on Gasparino's interview with Dimon.)  No, Mr. Dimon, it should not be stopped.  There are many out here in a financially ruined America that would like real investigations and indictments of the very bankers who caused the financial meltdown of 2008.  I think that would be a "productive conversation."  Unfortunately, it does not look like that will happen.  Instead of indictments, the five biggest banks are in the final stages of a deal with state AG's and the federal government to settle the mortgage mess that caused housing to collapse.  MSNBC reported recently, "A proposed $25 billion settlement between five big banks, state attorneys general and the Obama administration may help resolve some of the thornier legal issues surrounding the mortgage mess that caused the housing market to collapse.  It will do relatively little to stop the ongoing wave of home foreclosures or revive the deeply depressed housing market, however.  Talks got underway more than a year ago after a series of private lawsuits focused national attention on an outbreak of "robo-signing" and other shoddy and fraudulent document processing practices by mortgage servicers foreclosing on homes. Most of the key issues that have sidelined past tentative agreements have been addressed, according to a source close to the talks who was not authorized to discuss the proposal."  (Click here to read the complete MSNBC story.) 
As Far as "discrimination" is concerned, I didn't hear a word from Dimon when he and other banks were getting bailout money and free loans that were in the trillions of dollars.  ($7.7 trillion in secret loans was just one of the ways big banks got bailed out.)  I think the big banks got treated pretty well.  Gasparino could have asked Dimon about the secret loans and didn't.   Dimon's charge of "discrimination" should have been challenged by Gasparino, and he just sat there and lapped it up.  After all, Treasury Secretary Geithner said a few years back that "none of them would have survived" if the government (read taxpayers) hadn't bailed out the banks, and JP Morgan was included in that group.  Dimon wasn't talking about "discrimination" then either.  According to Senator Bernie Sanders, the big banks (JP Morgan included) ran their own bailout program and got paid to do it!
What about the accounting rule change by the Financial Accounting Standards Board (FASB) in April of 2009?  Since then, the big banks have been allowed "mark to fantasy" accounting.  Why didn't Gasparino ask about a return to "mark to market" accounting?  This is what the IRS uses to value assets.  Dimon claims his bank is doing great, then why not value assets at what you can get for them today, instead of what you think you can fetch for them far into the future?  No questions on that either.
This is another of what looks to me like a PR job offered up by someone who is supposed to be a hard-hitting journalist.  My question is why the PR blitz by someone Gasparino calls "a spokesman for the industry"?   Is it to thwart what will be outrage over a weak settlement by the government over the mortgage mess?  This is going to let the big banks off the hook with a slap on the wrist, a $25 billion fine!  There are still no investigations and no prosecutions of the financial elites who profited and caused the financial meltdown of 2008.  This mess came with trillions of dollars of losses for homeowners and taxpayers.  Dimon and his other banker buddies should have at least been fired for being so reckless and so incompetent that they required a massive government bailout to keep them out of bankruptcy.
I have heard Gasparino say the mortgage mess was caused by politicians who forced banks to loan money to people who couldn't pay it back.  To that I cry BS!!  I don't think the government forced the banks to sell liar loans.  I don't think the government forced the banks to package those liar loans into securities that were rated AAA (equal to Treasuries.)  Many of these securities with liar loans were so "toxic" the Fed was forced to buy them so the banks would not implode.  I don't think the government forced the banks to create fraudulent documents to foreclose on millions of homes.  No questions were asked by Gasparino on any of the above issues either.  Dimon and JP Morgan got another free pass as the PR blitz continued for another day on the FOX network.
I heard Gasparino say he and Dimon go "way back."  Journalism is not about friends, it's about the truth, and you tell it to your readers and viewers.