USA Today Gives JP Morgan Free Pass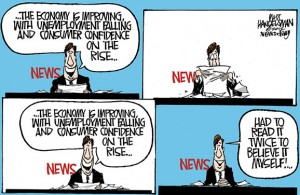 By Greg Hunter's USAWatchdog.com 
Last week, I saw an interview in USA Today with JP Morgan Chase CEO Jamie Dimon.  Maria Bartiromo of CNBC was the reporter; so, I am not surprised to see a very soft ball story.  I don't know what you would call this kind of reporting, but it's not journalism.  To me, it's a PR piece for Dimon and JP Morgan.  USA Today gave a sloppy wet kiss and a free pass to Dimon to say whatever makes the bank look good.  When asked about how his industry was "demonized," Dimon said, "What I would hope for: that there is no so-called pressure in the industry. That we had rational collaboration about how to build a great country with great rules and regulations that allow business to thrive. If business doesn't thrive, it hurts America."  (Click here for the complete PR interview from USA Today.)  In other words, if we don't thrive, you don't thrive.  So, don't even think about punishing us.
"Rules and regulations that allow business to thrive"?  There sure doesn't seem to be any rules or regulations to punish big banks for the crime and rip-offs that they have committed against the public, and you won't hear it brought up by any of  the mainstream media (MSM) either.  Why didn't Ms. Bartiromo ask about Massachusetts Attorney General Martha Coakley and the case she filed 7 weeks ago that alleges foreclosure fraud against Dimon's bank?  The lawsuit is alleging JP Morgan Chase and 4 other big banks ". . . improperly foreclosed on troubled borrowers by relying on fraudulent legal documentation . . ." (Click here for more on the Mass. AG's case.)  This is a case that has major nationwide implications.  How could Bartiromo just leave this out of her questions?  This is just one of several cases that have been filed against the big banks over the past few years.  Leaving this completely out of the question list is why I say this is a PR job and not journalism.
The latest stain on the bank alleges "JPMorgan Chase routinely fabricated documents to deceive bankruptcy judges. . ."   This is a charge in a current case on the other side of the country in California.  Doesn't this sound a lot like the charges leveled in the Massachusetts AG's lawsuit on the East Coast?  There was not a question on this case either.  Last week, "Courthouse News Service" reported allegations JP Morgan bank was "going so far as to Photoshop documents to "create the illusion" of standing "in tens of thousands of bankruptcy cases," according to a federal class action.  Lead plaintiff Ernest Michael Bakenie claims that Chase's "pattern and practice of playing 'hide-and-seek' with debtors, judges and other bankruptcy players" bore rich fruit: that Chase secured motions for relief of stay and proofs of claim in 95 percent of its cases."  (Click here to read the complete Courthouse News report.) 
How about a question for Mr. Dimon about the MF Global bankruptcy and $1.2 billion in missing funds?  After all, JP Morgan Chase has been named in a lawsuit based on racketeering law about some of the missing money that was allegedly transferred to JP Morgan just before MF Global went under.  (Click here for more on that story.)  Maybe "Money Honey" Maria Bartiromo thought that question was a little too embarrassing for Mr. Dimon?  I don't know, but it wasn't asked, and it should have been.   Again, this is why I say this is PR and NOT journalism.
Why isn't the Obama Justice Department going after JP Morgan and other banks?  Why are the cases only being brought as class action lawsuits from citizens or by a state attorney general?  Why hasn't the Republican Presidential contenders not brought this issue up?  Could it be that banks conduct themselves in a deplorable way because they know they will not be prosecuted at the Federal level by either party?   If the MSM was bringing this type of activity up in interviews and stories on a consistent basis, do you think there would be some outrage?  Of course there would be, but the MSM is owned by corporate America, and this is the system it likes.  By the way, JP Morgan Chase (Dimon's bank) is the biggest shareholder of Gannett which owns USA Today.  I am sure that has nothing to do with the soft interview and positive coverage that was given to Mr. Dimon and his bank in the paper.  USA Today should be disclosing this fact every time they print this kind of a public relations interview/story—they don't.
One of the main reasons the country is in trouble is because the MSM fails to do its job as a watchdog and is really just a lapdog for corporate America.  America is in deep financial trouble, and the mainstream media is just propelling a fantasy world that few believe will ever change.  It will change, and it will be dramatic and cruel.  Many people will wake up one day unexpectedly poor, and that's when they will find out they've been living a lie happily delivered by the MSM.