Kamala VP, Violent Protest Crackdown, Stimulus Fight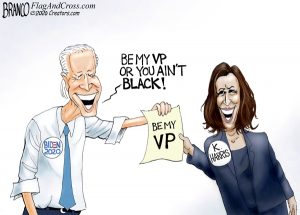 By Greg Hunter's USAWatchdog.com (WNW 444 8.14.20)
Joe Biden finally announced his running mate for the 2020 Presidential election, and it's Kamala Harris.  Trump said Harris was his number one pick.  Trumps says she "lied" about a lot of things, and she's "nasty."  I am not sure what Harris brings to the ticket.  She was blown out in the Democrat primaries.  She was the least favorite candidate among black voters, but Harris is somehow supposed to bring black voters back to the Dem party.  Go figure.
Attorney General William Barr said Thursday night in an unscheduled appearance on the Sean Hannity show that he is announcing a crackdown on surging violence sweeping Democrat controlled cities such as Chicago, Seattle, Portland, Kansas City and others.  The federal action is called "Operation Legend," and it's already started taking violent criminals off the street.
The economy finally posted unemployment initial claims below one million, but just barely.  This means stimulus is coming, and President Trump is going to deliver with or without Democrat help from Congress.  Trump is sitting on $1.8 trillion at the Treasury, and he does not need approval from Congress to spend it.  The stimulus is stalled, and the Democrats want more than $1 trillion just to rebuild the cities they have turned into hell holes.  Trump and his party say that's not going to happen because they don't want the stimulus bill to be much more than $1 trillion in total.
Join Greg Hunter of USAWatchdog.com as he talks about these stories and more in the Weekly News Wrap-Up.
(To Donate to USAWatchdog.com Click Here)
After the Wrap-Up:
David Morgan from The Morgan Report will be the guest for the Saturday Night Post.