Meet the New Boss, Same as the Old Boss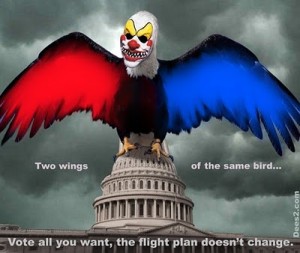 By Gene Tunney  Guest Writer for Greg Hunter's USAWatchdog.com  
If you are my age, you know that the title is from a 1971 song by The Who titled "Won't Get Fooled Again."  I was certainly fooled in the last Presidential election.
Even though I was a registered Republican at the time (2008), I could not vote for Senator John McCain.  McCain called off his campaign to go bail out his banker buddies.  Barack Obama voted the exact same way.  Even so, I voted for Barack Obama because I wanted to vote for real change.  I wanted America to stop the madness so badly and move away from the crony capitalism.  How could I be so gullible?
And to add insult to injury, except for being an eloquent charismatic speaker, Obama is not that different from Bush.
Bush spent billions of dollars on two wars on credit.
Obama is spending billions of dollars on two wars on credit.
If this is such a national security issue, everyone should have to sacrifice to pay for it. The only sacrifice I see is the one made by our Military and their families.
Bush appropriated $700 Billion in TARP money to bail out the banks. Obama oversaw some of the bailout and continued it under his administration. When fat cat bankers rewarded themselves million dollar bonuses for failure, Obama said, "I, like most of the American people, don't begrudge people success or wealth. That is part of the free- market system." Mr. Obama, the free market would have given Mr. Dimon and Blankfein pink slips for failure and incompetence. Instead, they got multimillion dollar bonuses that you think they somehow deserve.
Bush did not regulate the banks. After more than a year in office, Obama has yet to pass bank regulation. If only Mr. Obama would have concentrated on Bank regulation and the economy, we would have the new needed regulation in place.  Instead, he is trying to create another gigantic health care entitlement when we can't pay for the existing entitlements.
The Bush administration was opaque. The Obama administration is also opaque.
Bush expanded Medicare with an unfunded drug benefit. Obama is planning to give health care to 30 to 40 million people who cannot afford it to "save" money.
Bush gave his buddies at Halliburton a sweetheart no bid contract in Iraq. Obama gives a sweetheart no bid contract in Afghanistan to Checchi & Company.
Gerald Celente, of Trends Research Institute, said recently that President Obama's spending is "Out Bushing Bush."
Meet the new Boss, same as the old Boss. I won't be fooled again.