Middle East & South China Sea Heating Up, Dem Debate, Economy Sinking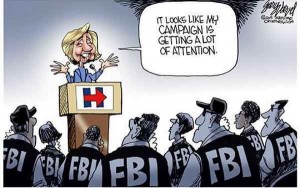 By Greg Hunter's USAWatchdog.com (WNW 212 10.16.15)

It looks like the war hot spots in the world are getting hotter. Russia continues to punish anything or anyone that is against Bashar al-Assad. Russia's top goal is to keep the Assad regime in power, and they are doing it. Russia is flying bombing missions every day in Syria. They are reportedly very effective. The White House says what is happening in Syria is an act of desperation by Iran and Russia. Russia counters by saying that America did not have an "agenda" or strategy, and the U.S. is the weakling on Syria and stopping terrorists. The U.S. has given up on training the so-called moderate rebels in Syria. The U.S. spent millions of dollars and only trained less than a half dozen fighters. It did make a stab at supporting the anti-Assad forces which, as I have said in the past, are in large part al-Qaeda. It dropped 50 tons of ammunition to the "moderate" rebels. You know terror fighters are getting most, if not all, of that. Talk about desperate and, while we are at it, let's add stupid, the U.S. continues to openly arm terror groups. What kind of foreign policy is this? Not a winning one, that's for sure.
Meanwhile, it is reported that Iran has 1,000 troops on the ground helping Hezbollah fighters. It's one terror group trying to knock out the other terror group. To add to that, Cuba has also sent some troops and Special Forces reportedly in Syria. Cuba troops may be there to operate Russian tanks to help with the offensive.
Then, there is news that Iran has shown video and revealed some of its secret underground military facilities 650 feet below ground. It also showed off video test firing a new long range missile. Congressman Ed Royce, House Foreign Affairs Chairman, says some of this new technology may end up in the hands of Hamas or Hezbollah to attack Israel.
Speaking of Israel, violence has broken out in the Jewish State with many reported stabbings of Jews by Palestinians. The say the attacks are not being officially organized and are being done on social media. The Israeli army has been called up, and there is no sign of peace anywhere in the area. This could spin out of control and turn into a very bloody conflict.
In the South China Sea, tensions are heating up between the U.S. and China. China has built islands there and claims it is part of China. The U.S. is sending warships to travel through those waters because it says this threatens navigation. China is threatening military action for what it calls "ceaseless provocations" by the U.S. Japan also says it will patrol the waters of the South China Sea that China is now claiming the 600 miles long stretch as its own territory.
The economy continues to tank, and the mainstream media continues to lie about it. One story this week says the "Economy Inches Up." This story contradicts itself. It says the reason for the slowdown in the hiring of workers is because of a "shortage of workers." The next paragraph says the Fed Beige Book points out industry is "sluggish."
Join Greg Hunter as he looks at these stories and more in the Weekly News Wrap-Up.