Middle East Tensions Continue to Mount, Trump Still On Top, Some Mosques Teach Jihad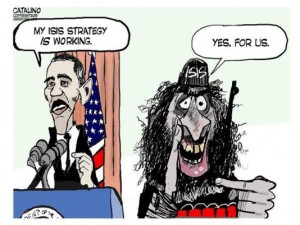 By Greg Hunter's USAWatchdog.com (WNW 219 12.11.15)

Russia continues to attack ISIS and continues to ramp up the rhetoric. Vladimir Putin said that the new missiles fired from subs in the Mediterranean Sea were "highly effective, high-precision weapons that can be equipped either with conventional or special nuclear warheads." Putin added, "I hope we will never need it." Is he serious or playing a mind game with the west? Who knows, but it is certainly a veiled threat of nuclear war in the Middle East.
Meanwhile, fresh off shooting down a Russian fighter jet, NATO member Turkey has sent troops into Iraq. The Iraqis are protesting this at the UN. The U.S. Congress is proposing bipartisan legislation to authorize military force against ISIS. It would expire in three years. There are already 3,500 troops in Iraq. The vote is going to be a close one on the use of more force in Iraq.
The headline about the San Bernardino Islamic terrorists that murdered 14 and wounded 22 says it all, "Killer Couple Were Radicalized Years Ago." This is according to FBI Director James Comey in testimony on Capitol Hill. Comey says the FBI has 900 active investigations involving Islamic State sympathizers all across the U.S.
Maybe this is why Donald Trump is calling for a temporary halt in Muslim immigration and visas into the United States. The mainstream media and neocon Republicans and Democrats crucified him, and what happened? His poll numbers went up. Then there is this concerted effort by the MSM about "anti-Muslim bigotry." It is not anti-Muslim to point out the fact and shine light on a legitimate problem with radical Islam. Back in 2009, the FBI estimated that 10% of the nation's 2,000 mosques preached Jihad. Other studies from 2013 show nearly 80% of 100 mosques checked teach some sort of written material about Jihad. It is mainly against Jews and Christians. I see plenty of Muslims complaining about the unfair treatment they are getting, but I don't see much outrage about the recently 14 murdered and 22 wounded in the Islamic terror attack in California. I also don't see Muslims getting together and trying to come up with a way to stop these terrorists.
Economic news continues to come in, and it's nearly all bad week after week. Not sure how the Fed is going to justify the rate increase it's signaling, but it is selling the idea the economy in the U.S. is strong enough to take the hike.
Join Greg Hunter as he analyzes these stories and more in the Weekly News Wrap-Up.