Middle East War Coming, Economy Tanks Fed Hikes, Obama Care Implosion and Bailout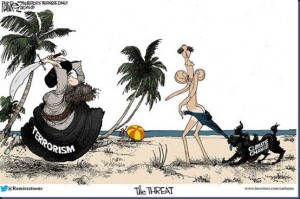 By Greg Hunter's USAWatchdog.com WNW 218 12.4.15
As terrible as the terror attack in San Bernardino, California, is it's not really the big story. I know you have been seeing wall to wall coverage of this attack. I am sure some Democrats and the President would like this to be workplace violence, but let's face it, it was a terror attack carried out by violent Islamic extremists.   I am equally sure the President and some Democrats would like to use this as a way to have anti-gun legislation. Both of these views are delusional and out of touch with most Americans. Look no further than Black Friday gun sales. They broke records, and that was before this awful attack. Not all Muslims are bad, but the population is so big globally that if just 10% were radicalized, it would be 160 or 170 million people. This is the new asymmetrical warfare, and it will increase because conflict in the Middle East is increasing.
This brings us to the big story, and that is the increasing tensions mounting in Syria, and military assets and boots on the ground are converging there. Tensions between NATO and Russia have been mounting since Turkey shot down a Russian fighter jet. Russia has been hitting ISIS oil facilities and cutting off their financing. Evidence shows Turkey has been buying the oil and financing ISIS. I said months ago that the Obama Administration was not serious about defeating ISIS because it was not cutting off its oil and bombing the wells it controls and uses to finance terror. Now we know why. The U.S. had to know who was buying the oil and, therefore, was complicit in financing the terror. Not only that, but Democrats and Republicans are both worried about what is going on. Rep. Dana Rohrabacher is wondering if Turkey should even be in NATO after shooting down that Russian jet and how it is apparently backing ISIS. Meanwhile, House Democrat Rep. Tulsi Gabbard has questioned the wisdom of putting U.S. jets in a position to counter Russian jets on the Turkey/Syrian border and said it could lead the U.S. into a nuclear war with Russia. Retired General Wesley Clark pointed out how sticky this whole Middle East mess really is when he said, "Let's be very clear: ISIS is not just a terrorist organization; it is a Sunni terrorist organization. That means it blocks and targets Shi'a. And that means it's serving the interests of Turkey and Saudi Arabia – even as it poses a threat to them."

Back home, Fed Head Janet Yellen is signaling an interest rate hike is in the cards for this year. The headline reads "Fed Chair Ready to Raise Rates at Own Pace." What does that mean? Apparently, the stock market and bond markets think it means something bad because both tanked this week. Gregory Mannarino of TradersChoice.net called the stock market top in May, and it looks like he's been right ever since. I don't think we are going to see the Santa Clause rally this year. Meanwhile, the economy continues to sink. The latest bad news comes from imploding durable goods and factory orders.
Obama Care is being confirmed as the disaster I told you it would be. This huge Democrat lie of public policy is imploding. The so-called healthcare co-ops are dropping like flies. Now, Obama Care needs a bailout, and it doesn't look the Republican Congress is going to come up with billions of dollars to keep this turkey of a healthcare plan afloat. It there is not taxpayer bailout, healthcare providers will go broke or pullout altogether. Democrats should be ashamed for lying and now asking for tax money to bail out their fraud on the American public.
Join Greg Hunter as he talks about these stories and more in the Weekly News Wrap-Up.